Radial Angel, Natalie Grant, Russ Lee, & more - Jan 31 News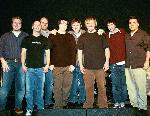 NO HALOS OR WINGS REQUIRED – The next band coming down the pike in the "rock' n' roll is back" resurgence is Squint Entertainment's newly-signed Radial Angel.  Hailing from good ol' Oklahoma, the band of four (Jared Taber, Tommy Perkins, Jeremy Dolezel, and Eddie Jones) has seen some zing from their independent releases and efforts--first indie project yielded the hit single "down" that hit No. 14 on Progressive Airplay Journal's Rock Top 50 chart and No. 7 on the Jamsline Rock Top 50.  Their Squint major-label debut, One More Last Time, will bow on March 11, 2003 and features the production genius of Chris Freels (Charlie Hall, Jamie Smith, Passion projects) and Kevin Lively (Rage Against the Machine, Stone Temple Pilots). 

SCRATCH MY BACK,AND I'll SCRATCH YOURS – If the book is that good, then the music must be just as good--or even better.  Right?  Thankfully, in this case, the music of Songs for a Purpose Driven Life, a multi-artist CD (Nicole C. Mullen, Kevin Max, Natalie Grant, Take 6, and more), is just as good as the book that inspired it--Rick Warren's The Purpose Driven Life:  What on Earth Am I Here For?  And as the literary counterpart continues to tear it up on multiple book charts, so does the music continue to impact many lives.  It's a good thing….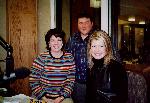 PHOTO OP @ KBIQ – Curb Records signee and Dove Award nominee for "Female Vocalist of the Year" Natalie Grant recently visited KBIQ 102.7 FM and "The Q Morning Crew" during the station's…you guessed it…morning show.  We're not sure, but perhaps they broke out the streamers and the sparkling water to celebrate the success of Grant's debut single "I Will Be" from her forthcoming A Deeper Life project, due out February 11, 2003.  It's currently at No. 14 on the R&R AC Top 30 chart and at No. 16 on CRW's AC Hot 40 chart.  Mazel Tov!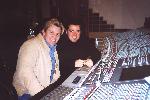 MEANWHILE, BACK AT THE STUDIO – Christian Records solo artist Russ Lee and producer Regie Hamm have walked the line and done their studio time on The Second Mile--due out March 4.  Lee also got a little help from some very talented yutes this time around.  Seems Reunion Records artists Joy Williams and Daily Planet's Jesse Butterworth lent their mad writing skillz to the debut single, "Love Is a Cross".  Listen for that little ditty to hit airwaves next week on a very appropriate date of February, 14, 2003.