Re-tooled Dead Poetic Takes Dramatic Step With "Vices"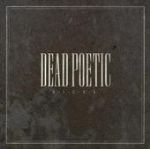 Artist:  Dead Poetic
Title:  "Vices"
Label:  Tooth & Nail
If pain and suffering forge the best work out of an artist, Dead Poetic's almost breaking up last year was a godsend.

This new album, "Vices," finds them sounding as desperate as an "American Idol" semi-finalist in one song, as intense as an angry World Trade Organization protestor in another, but as calm and collected as a veteran band showcasing its wares on a "Tonight Show" stage in the next. While that sounds like a description of a diverse-sounding album, it's actually cohesive, flowing and very listenable.
This rejuvenated band is in full swing from the first power chord struck in "Cannibal vs. Cunning," which sounds very similar to the song "Witchhunt" from Stavesacre's 2003 self-titled album. Other tunes, such as "Lioness," sound very chunky, like Chevelle in one of its low-end grooves; and the sweet rock & roll desperation near the end of this album (as on "Copy of a Copy") sounds uncannily like Sweden's "Blindside" in vocal meter and tone. A slow ballad never sounded so punk rock.
Similarities aside, these 14 songs hold their own, with infectious hooks that dig their claws deep into any musical heart with open ears, which will incite plenty of sing-alongs in a live setting. And the musicianship here is quite impressive as well, with stop-in-an-instant tightness and nary a moment between tracks to catch one's breath. All in all, there is much to like on this album.
Lyrically, vocalist/songwriter Brandon Rike takes the listener on a "Seven Deadly Sins" type voyage that honestly looks at the many vices faced in this world. With a blunt, but biblical lens, he traverses deception, greed, sex, self-destruction, drugs, defensiveness, escape and vanity – all culminating in the crushing weight of sin and the wonder of a Savior who sees through our sin and, nevertheless, values us.
Founders Rike and Zach Miles re-tooled their lineup by adding super drummer Jesse Sprinkle (Poor Old Lu, Demon Hunter) and former Beloved members Dusty Redmon and John Brehm (guitarist and bassist, respectively). The result is a dramatic step up from the solid screamo of "New Medicines" – doing so with a solid rock identity that defies sub-genres.


© 2006 CCM Magazine.  All rights reserved.  Used with permission.   Click here to subscribe.