Rebecca St. James: How Should She Then Live?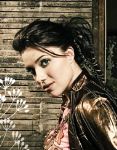 When Rebecca St. James spent much of the fall of 2004 at Francis Schaeffer's famed L'Abri Fellowship Study Center, God opened her eyes to a whole new life. And now, with the release of her surprising album, "If I Had One Chance to Tell You Something" (ForeFront), it's clear she's been diving in headfirst.
At a black metal table in front of a coffee shop on Nashville's West End Ave., sits Rebecca St. James, a GRAMMY winner, author, speaker and 12-year Christian music veteran. All at the ripe young age of 28. A young woman – wise beyond her years – who never set out to make a name for herself, but who used her success and the platform that music gave her to share her faith with others. A young woman who has toured and recorded year-in, year-out, trying to live up to the professional hype and her own expectations in the midst of our confused, celebrity-obsessed culture.
It is, of course, exhausting. Rebecca has struggled with self-image, as most young women do. She has worked hard to be good enough, smart enough, talented enough, pretty enough, strong enough. She did everything she could do, except take a break – a real break – from it all.
So this late fall afternoon, sporting a tan suede chapeau and a warm, 'happy-to-be-caffeinated' smile, Rebecca recounts her well-planned getaway and how God used it to change her.
Up, Up & Away 
"Part of being Australian is my go-getter, 'never say die' kind of attitude," Rebecca confesses. "We'd gone so hard on the road for so long that I'd struggled with near burnout several times. For the last four or five years, I'd seen the need for a yearly sabbatical, but I'd never been able to get away. So, last year I decided to go away, like really away."
A touring artist since the age of 16, Rebecca had never experienced the luxury of college life, but the idea of being in a learning community appealed to her. "I always thought it would be kind of cool to be with a bunch of people my age and be growing. … Maybe take a Bible course or psychology or counseling. Those things have always intrigued me."
Switzerland had also fascinated Rebecca ever since she was a little girl watching "The Sound of Music" and "Heidi" on television. Those magical mountains had been tucked away in her mind's eye. So she did some research, looking for a place in Europe where she could go to disconnect from life as she knew it and reconnect with herself and her God.
That's when Rebecca discovered L'Abri Fellowship Study Center in Huemoz, Switzerland, a retreat center founded in 1955 by renowned Christian theologian/philosopher Francis Schaeffer and his wife Edith. French for the word "shelter," L'Abri was established as a community study center where Christians and non-Christians alike could seek honest answers about God and the meaning and purpose of life.
During the 1970s and '80s especially, L'Abri was a profound source of inspiration for the fledgling Christian music community. Meanwhile, Francis and Edith Schaeffer also influenced other prominent believers such as Charles Colson, Tim and Beverly LaHaye, Pat Robertson, Cal Thomas and Os Guinness, to name only a few. As recording artists such as Larry Norman and Charlie Peacock hailed Francis Schaeffer's books, "Art and the Bible", "How Should We Then Live?" and other L'Abri texts, Mark Heard, Steve Taylor and many others actually made the trek to Switzerland to study at the Schaeffers' community center. Together, Francis and Edith urged Christians to become disciplined scholars, championed the arts, encouraged women who chose to be homemakers, and helped unify evangelical opposition to abortion.
After Francis passed away in 1984, Edith continued to write books and nurture the ministry they established together, opening the way for so many, including Rebecca St. James.
"It was such a beautiful, God-ordained thing," Rebecca says of discovering L'Abri, "and it was just what I needed because they don't dictate [a course of study] for you. They ask you, 'What's on your heart?' and 'What do you want to learn?' and then they say, 'We'll help you.'"
For four weeks, beginning in September of 2004, Rebecca stopped the clock on life as she knew it. She flew to Geneva and took the 11.5-hour train ride to the town of Aigle, followed by a twisting, turning bus ride up the mountain to Heumoz. There, she met people from all over the world, people who came to study, think, work and live apart from their usual everyday existence. Real, regular people. There were no celebrities, no press conferences or VIP receptions, just hearts in need of serious time for reflection.
It was the first time Rebecca had ever been anywhere this far unaccompanied. In fact, due to security threats that have plagued her in recent years, she is almost always escorted wherever she goes. But thousands of miles from home, alone, she was not nervous. Somehow she knew it would change her life.
"I remember in the train, writing in my diary, just watching Lake Geneva go by, these huge mountains, and just being so excited," she says. "And just getting there and meeting all these new people, I remember feeling like this was way out of my comfort zone. … Most of my life is pretty much controlled. You know? I mean, I do my show, and I know how to do it. I have my band and my team around me, and I do interviews, and I write songs. But you go to the other side of the world, and you don't know quite what you're in for. So, you're definitely vulnerable. ... But it's a great feeling. It's a feeling of excitement and adventure, too, that I love."
Rebecca immersed herself in study, reading, listening to audio tapes and discussing her questions with the L'Abri tutor assigned to her. She processed what she learned and worked in community among her new friends. She spent quiet time in prayer and Bible study and perhaps, more than anything, she listened for the still, small voice of God to speak.
"In every way, it was very renewing for me," she says with such excitement you'd think she'd just flown home. "Physically, you're out there, and the sun is shining, and you feel like you're healing – spiritually, emotionally, physically and mentally. And it was such a release for me … even the community aspect. I was a sponge. I needed to take it all in."
Challenged in the past by journalists and complete strangers who asked difficult questions about her faith and why she believes what she believes, Rebecca desired to go deeper, to reach for the all-important answer to "Why?"
"You grow up in the church, and there's a lot that you just accept because you just grow up there," Rebecca says. "And you don't find it out for yourself until you have that moment of awakening where you go, 'I need to discover this for myself.' So, I really wanted to study more about how to defend my faith. Not just to those who might not know Jesus and to those who might challenge me, but for myself when the enemy attacks.  I really wanted to understand certain aspects of my faith that I hadn't looked at in depth before."
While there, Rebecca faced head-on her toughest unanswered questions about life, love and what it means to trust God with even the deepest desires of her heart. One of the most personal issues Rebecca took to L'Abri was her unfulfilled dream of marriage and a family of her own. A well-known and passionate voice for sexual purity and abstinence, this "hopeless romantic" had often struggled with the reality that her prince charming had yet to arrive on the scene. Life on the road and dating don't mix well at times. And well into her 20s, with no prince in sight, Rebecca began to wonder if God really knew the desires of her heart. And if He knew, how could He be so slow? "I was withholding this area of my life because I wanted to control it. Because of [my need to control] it, I couldn't trust God with [it], couldn't really let it go to Him." L'Abri gave her the opportunity to work on those trust issues, to see a change happening from the inside out.
Ultimately, L'Abri gave Rebecca the deep, cleansing breath she needed to allow God to reveal the real woman He was creating in her. Not the girl she thought she should be or the girl others thought she should be, but the healthy, empowered – beloved and beautiful – woman she was created to be.
"Last year was really a difficult year, and I think it revealed a lot in me," Rebecca says. "You know, difficulties reveal your character and problems in your life that cause issues to surface. I had the choice to deal with some of the self-worth, self-image stuff I was [struggling] with. A lot of pressure to be a certain way. To be super skinny, model perfect or whatever, and compound that with the pressure of being in the spotlight and on the covers of albums. … I needed to see God's image instead of a 'self' image... When you come to that place of, 'I'm truly accepted and loved as I am,' then you can truly be all that He's created you to be."
That, she says, is the gift L'Abri gave her. "It was really freeing, a beautiful time of finding afresh how much God loves me as I am. A real purifying time, a rebirth. Everything I'd hoped for and more."
Redefined & Ready to Rock
It was L'Abri founder Francis Schaeffer who wrote, "Art is a reflection of God's creativity, an evidence that we are made in the image of God."  So it comes as no surprise that Rebecca St. James returned from Schaeffer's "shelter" with a renaissance in her creative soul.
Rooted in themes now near and dear to her heart – themes such as community, vulnerability, living life to love and serve others, and speaking the truth while you still have a chance – Rebecca's first studio album in four years reveals a mature, more thoughtful woman at peace in her own skin.
"For a long time, I thought, 'Becca, you've got to just buck up and be strong, you've got to put on a brave face. You've just got to get through this burnout or this discouraging time or this pressure of leadership as a woman in music. You've just got to grit your teeth and get through it.' That whole mentality. But God has just so impressed on my heart the truth that vulnerability is powerful. When you take off the mask, you relate at a base level to everyone else who has been through pain. That [transparency] promotes intimacy; it promotes togetherness, relying on God. It promotes a lack of pretense and a true honesty that is just so beautiful. And I think it's missing in our culture a lot. We are so over-independent. And, so willing to put on the strong, brave face that every thing's OK when it's not." 
That's just one of the many personal truths that make "If I Had One Chance to Tell You Something" undeniably relevant and compelling. For the past three years, Rebecca's focus has been largely on worship, but with a renewed, redefined sense of self and a heart that is fully confident in God's grace, Rebecca now takes a gigantic leap into the unknown. Where she lands is the next level, revealing the freedom and joy she's experienced over the past year.
"I think there's an undertone on this new album of freshness, renewal, depth, vulnerability and hope that I think largely came from L'Abri," she says. But don't think for a moment that the music is as soft as her heart. This album rocks in ways we've not heard from Rebecca since 1996's "God." "Alive," the first single and the lyrical linchpin of the project, leaves no room for doubt that – as Rebecca herself says – Rock Bec is back! "It's a fresh new day in so many ways," she says.
Rebecca's desire to keep moving, to keep growing, makes her a committed, consistent leader and innovator – in music and in life. She has chosen to breathe deeply, to feel deeply and to be fully present in the moment, whatever comes. Her bravery in facing her fears and trusting God with her dreams is just one of the ways God has allowed her to reach out to teen girls and young women of her generation. In 2005, having written six books aimed at encouraging young women to walk with God, cherish sexual purity and see themselves as God sees them, Rebecca takes her message of healthy, faith-based empowerment to girls of all ages with SHE events nationwide. A naturally gifted communicator, Rebecca knows how crucial the message is for young women. Especially now, in the best, most peaceful season of her life so far.
And what about the road ahead?
"You know those moving sidewalks in airports?" she responds when asked about her longevity in music. "It's like that. The times are moving so much that if you just let it take you, it'll take you off the tracks. You have to be moving with the times, but you have [to stay] on your toes and make an effort to reinvent yourself; otherwise it will take you off the conveyor belt, and you become absolutely irrelevant.
"Pop music has so much 'alternative' in it now that it's no longer alternative. So you've got to keep trying new things and finding new ways of saying what is on your heart. Just coasting along, doing the same old, same old – yes, it's safer and yes, it's less risky, but where's the adventure? Where's the exhilaration? Where's the 'seizing the day' element in that? That doesn't bring a joy or excitement to life. I'm not a coasting kind of girl."
REBECCA ST. JAMES:  AUTHOR
"Forty Days with God"
By Rebecca St. James
Thomas Nelson, 1996
A devotional for youth that encourages habit-forming encounters with scripture and prayer.
"You're the Voice:  Forty More Days With God"
By Rebecca St. James
Thomas Nelson, 1997
Rebecca's open devotional journey continues...
"Wait for Me:  The Beauty of Sexual Purity"
By Rebecca St. James
Thomas Nelson, 1997
Based on her song with the same title, Rebecca urges young people to cherish sexual purity.
"SHE:  The Woman You're Made to Be"
By RSJ and Lynda Hunter Bjorklund
Tyndale, 2004
A book devoted to unveiling the truth about womanhood as defined and designed by God.
 
"SHE Teen"
By RSJ and Lynda Hunter Bjorklund
Tyndale, 2005
A magazine-format guide that emphasizes how teen girls can live safe, healthy and empowered lives in the image of God.
"Sister Freaks"
Edited by Rebecca St. James
Warner Faith, 2005
The much-anticipated companion book to the classic success of the "Jesus Freaks" book, "Sister Freaks" features 50 stories of women who gave all for Jesus. 

REBECCA ST. JAMES:  SPEAKER
Rebecca's SHE events continue throughout 2006. These mother-daughter-sisters-friends gatherings feature straight talk about real life, heart-to-heart encouragement and empowerment for girls of all ages. For more information, go to rsjames.com.



© 2005 CCM Magazine.  All rights reserved.  Used with permission.   Click here to subscribe.