Reconnecting with … Christafari
Andy Argyrakis

ChristianMusicPlanet.com

2009

6 Jan

COMMENTS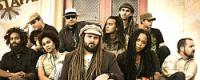 Besides putting the idea of reggae with a gospel message on the map, Christafari was named one of the Top 10 Reggae Artists in the World by Billboard Magazine. It's a series of tag lines front man Mark Mohr doesn't take lightly as the extensive, multi-instrumental troupe seeks to minister to mainstream culture and the church alike, especially considering his background as a non-believer.
"I was the polar opposite of what I'm doing now, writing songs in the [secular] vein, calling myself a Rastafarian and smoking a heck of a lot of weed," the singer candidly admits of that time period he's since been delivered from. "When I came to Christ, the Lord was still impressing [this style] of music on my heart, which is why I formed Christafari. Why should a pro football player quit playing when he could lead the whole team to Christ?"
The momentous decision came 19 years ago, and Christafari continues to thrive with two new releases across its camp: Christafari and Friends: Reggae Redemption Songs II and co-front woman Avion Blackman's solo CD Sweet Life (both on its own Lion of Zion label). The former is a sequel to the group's highly successful Christian reggae compilation, which once again proves the genre is thriving, even if most faith-based reggae acts have yet to hit the "ccm" radar.
"There are two sides to gospel reggae audiences—those who are educated and those who are uneducated," Mohr continues. "If you think we're the only band that does it, please go to gospelreggae.com, which is a web store I own. Last time I checked, there was a list of 300 reggae artists on there, some of whom are struggling and others who aren't. Some are making significant impacts in their regions, and others are taking the international scene by storm."
At the time of this particular chat, Christafari had just come back from Brazil, which is just one of the countless countries the group's visited since its inception. The band credits its former label, Gotee, as being a springboard to the international spotlight throughout the late '90s and early '00s, with the Internet picking up where that relationship left off.
"We were one of the first artists to get signed to them, and it was huge in terms of timing because we were the only Christian reggae act to be released internationally," he recalls. "Now people from all over the world can buy directly from us at our site, and we're not just selling Christafari CDs… It's not a competition, man; we just gotta help this genre!"
Outside of the unique stylistic swath that mirrors reggae icons like Bob Marley and Peter Tosh, Christafari also has an unconventional ministry. The first is to present the Good News to those in the Rastafarian community, which is executed through sharing spiritual messages from stage and even in the inner CD jacket of Reggae Redemption Songs II (which Mohr equates to a witnessing tract). Still, there's plenty for Christians to sink their teeth into as well, with the messages packed within covering everything from daily inspiration to unabashed praise.
"We first want to be a positive alternative [for dedicated reggae fans]," he sums up. "There's not a lot of good gospel reggae similar to Marley, and we hope to blow them away with the music on this CD. I believe any song sung to God can be used for worship to glorify Him; and there are many songs of faith to encourage Christians as well."
For more info, log on to christafari.com.




©2008 ChristianMusicPlanet.com. All rights reserved. Used with permission.

*This review first published on January 6, 2009.