Reconnecting With … Michael Sweet
Andy Argyrakis

ChristianMusicPlanet.com

2008

5 Sep

COMMENTS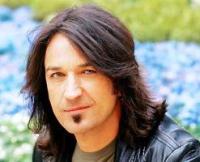 Even though he's always been associated with major bands—first '80s metal trailblazers Stryper and now as co-vocalist with the newly reconvened Boston on this summer's arena tour—Michael Sweet's kept a steady eye on his solo career.
Though jump-started in the early '90s after Stryper's original hiatus, it maintained steady steam through that act's reunion at the tip of the 2000s and continues through today. Yet, the brand-new individual offering, Touched, is a complete anomaly when compared to any of the singer's other projects, not just because of a stripped-down approach, but due to its series of covers dedicated to his wife Kyle (who's bravely battling stage four ovarian cancer).
"When I was taking care of her during her first treatment, and she would spend a lot of time resting, I would go down [to my studio] and record for an hour," says Sweet of the project's genesis. "I basically just recorded a bunch of songs as a love letter to her, which I originally planned on just presenting [privately] to her. But it turned into something she wanted to be available to people, so I [released it online] and then got a distribution deal. What was just a record for her fortunately became something that a lot of people were touched by as well."
Those expecting all out rock 'n' roll won't find much on this outing, but Sweet's remarkable range is in tact as he lovingly remakes several familiar favorites. Though not necessarily cut by Christian artists originally, the singer is using tracks like "You Are So Beautiful," "She's Got a Way," "The First Time I Ever Saw Your Face" and "The Rose" to display his marital covenant of unconditional love, which has in turn inspired other couples across the entertainer's vast listening audience.
"We've received several e-mails [from people] saying how these songs have touched them and helped restore their relationship with their husband or wife," he verifies. "It's really affected a lot of people as far as love for one another and gaining strength in relationships, which it was never really intended for, but it's really neat how things like that work out."
Aside from restoring others, he hopes Touched will showcase the family's firm faith in a time of crisis, while also prompting prayer from fellow believers over this delicate situation. Though touring has scaled back considerably since Kyle's diagnosis, Sweet currently has Boston shows on the books through the end of August.
"We talk about it every day, but she's insisted that I be here [on the road], and she wouldn't have it any other way," adds Sweet. "In fact, she wouldn't let me come home if I wanted because she feels like cancer has taken so much, and she doesn't want to take away this. It feels odd to be away from her, but I have her blessing and call home all the time. I'm going home from the Boston tour September 1, and I requested from Stryper's management that they don't book any shows for the rest of this year. I'm just going to stay with my wife and take the next year as it comes."

Visit michaelsweet.com for more info.

©2008 ChristianMusicPlanet.com. All rights reserved. Used with permission.

*This interview first published on September 5, 2008.