Reeves' Sweet Sweet Sound Is Decisively Good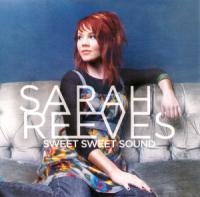 Artist: Sarah Reeves
Title: Sweet, Sweet Sound
Label: Sparrow Records
More than ear candy, surefooted worship debut stands alone …
In a forest of young, trendy worship leaders with shiny new praise songs, one automatically wonders how 19-year-old Sarah Reeves could possibly distinguish herself. Isn't the Alabaman redhead just another adorable ingénue aglow from church camp?
Don't be so sure. Though Reeves did commit her life to Christ at camp at age 15, she effortlessly dispels doubts with her inaugural effort, Sweet Sweet Sound, a decisive collection of power ballads and anthems that showcase a single-minded devotion to God.
At first listen, you're drawn in by her voice—candy-sweet, lilting but nonetheless authoritative—reminiscent of a young Leigh Nash. That, along with a gift for leading worship honed by fronting her church's worship band, explains why Plumb's Tiffany Lee plucked Reeves from relative anonymity and introduced her to record execs last year. Now, with surprising surety, Reeves unleashes arena-ready but potent worship songs geared to her generation, but boasting universal appeal. Her voice delicately highlights guitar-laced, toe-tapping melodies like "Fresh Anointing" and the album's title track/debut single, beckoning listeners into a worship space that's both ethereal and rock-solid.
Moreover, her scriptural and autobiographical songwriting is what's missing from many soda-pop songs on the radio today. Listeners will quickly identify with her tendency to magnify her own problems on "My Savior": "The waves surround me/I'm slowly drowning, as I'm crying out for help/Grabbing hold of anything that looks like it can carry me through the night." Lyrically, she also soars on "Awaken," where she challenges complacent believers to awaken from "the dark clouds we've been under/ Raise the sun above our slumber."
Yes, this depth does come from a dimpled teenage girl in Chucks. There's no doubt this one stands out from the crowd.



© 2009 CMCentral.com. All rights reserved. Used with permission.




Visit CMCentral.com now and join the single largest online community of Christian music fans on the internet. CMCentral features daily music news, exclusive interviews, album reviews, weekly devotions and feature articles written by some of your favorite Christian artists, and much more. CMCentral is also the home of the most popular Forum for Christian music fans that you'll find anywhere on the Internet. Come see what all the buzz is about!

**This review first published on May 5, 2009.