"Reflection" Provides Glimpses of Todd Agnew's Faith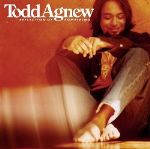 Artist: Todd Agnew
Title: "Reflection of Something"
Label: Ardent/SRE Recordings
The title of Todd Agnew's second album really couldn't be more telling as he provides 12 musical glimpses into the journey of faith.
Not since Third Day's Mac Powell has there been such a distinctive, instantly recognizable rock voice in Christian music. And those familiar with Todd's worship music will quickly recognize a new subtlety of this instrument in many of the slower songs on this album.
Fortunately, this disc offers more than another collection of worship songs, with tracks spanning the genres from guitar-driven blues to power ballads from the Creed era.
Lyrically speaking, some of the most powerful insights appear at the end of the disc in the track titled "My Jesus." At first listen one might think this is a delicate worship song of the Chris Tomlin persuasion. Instead, the thought-provoking lyrics question how Jesus would react to society today – specifically living the American dream of acquiring riches and becoming wealthy. Agnew also speculates on how we might react to Jesus today with a reference to his hometown of Memphis: "My Jesus would never be accepted in my church /The blood and dirt on his feet might stain the carpet/ But he reaches for the hurting and despises the proud/ And I think he'd prefer Beale Street to the stained glass crowd."
While this disc does not really add anything ground-breaking to the musical equation, fans of Todd's music will not be disappointed. From beginning to end, there's a sonic consistency that works – pure and simple. What really stands out, however, is a refreshing, honest perspective on the day-to-day life of a believer – something Christian music fans will certainly find worth a listen.
Take a glimpse at all of the Todd Agnew music videos at Godtube.com!

© 2005 CCM Magazine. All rights reserved. Used with permission. Click here to subscribe.