Red Goes Extreme in Release the Panic
Ed Cardinal

Crosswalk.com Contributing Writer

2013

19 Feb

COMMENTS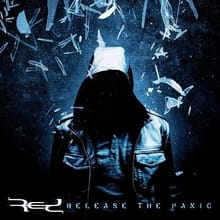 Artist: Red
Title: Release the Panic
Label: Essential Records
Listening to this fourth album by Nashville-based hard rock band Red brings to mind what one might imagine it's like to go through primal scream therapy. There are lots of tension-melting guttural noises followed by breakthrough articulations, and the tidal waves of bone-crunching guitars and drums could very well inspire punching pillows or throwing glass objects against brick walls. Release the Panic is noisy then nice.
Sounding like action hero movie fare, the title track opens the floodgates with a call to Blackout! Let your panic out! Producer Howard Benson (P.O.D., Skillet, Daughtry) has been called in to make records feel gigantic before, and he's doing it well again here. "Perfect Life" is a four-on-the-floor adrenaline rush that sees through today's airbrushed entertainment world (all you fake for reality . . .) and clearly recognizes our temporary earthly condition (I know who I am inside / I'm perfectly broken).
But such recognition doesn't mean the feelings of frustration aren't still there and boiling over. Even with its catchy chorus, "Die for You" is wrought with madness and fire. "Damage" mixes soft melody and end-of-the-rope rage (I am human debris / crashed and bent / I'm a catastrophe) while the speaker-frying instrumentation imitates power tools.
Then we realize this was the storm before the calm. Release the Panic shifts gears at midpoint, with three of its final five tracks proving Red has as much finesse as ferocity.

Still addressing issues of fear but with acoustic guitars, piano, and some falsetto vocals, mid-tempo anthem "Hold Me Now" descends from modern worship. Heavy power ballad "So Far Away" finds a struggling man speaking to God with utter transparency: How can Your love be so close when I'm so far away?

Granted, if those selections reached popular radio and marked your first encounter with Red, to hear the more aggressive stuff later could be a potentially unpleasant surprise.

"If We Only" returns to the band's intense hard core (Let it die! Tell me why I'm always craving violence), while closing cut "The Moment We Come Alive" is a better representation of how these guys nicely blend their dark edge with a bright outlook (We're living in a desperate time / Our only hope is believing there's another side).
There are certainly two sides to Red on Release the Panic, a solid choice for anyone who likes it when emotionally powerful music goes to extremes.
*This Article First Published 2/19/2013