Relient K's "Five Score" Brilliant and Compelling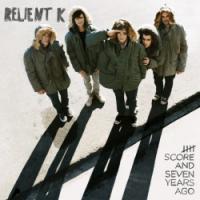 Artist: Relient K
Title: "Five Score and Seven Years Ago"
Label: Capitol/Gotee
They say Relient K named itself after the cheap car that everybody made fun of in the '80s. After recording "Five Score and Seven Years Ago," the band should probably change its name to Corvette or Lamborghini.
Relient K is well known for its quirky sense of humor and the fact that these guys never took themselves too seriously. Now they will be known for writing amazingly artistic songs – epic songs about death, forgiveness, loss and hope. This is the band's fifth album in seven years and the novelty is all but gone, and that's OK. If you put aside the dorky album title and the unnecessary (albeit short) novelty track "Crayons Can Melt On Us for All I Care," you are left with a brilliant and compelling album full of wonderful power-pop and alternative pop-punk songs.
Lead vocalist and multi-instrumentalist Matt Thiessen and the band have matured by leaps and bounds in every possible way. The beautiful Brian Wilson influenced a cappella opening track, "Plead the Fifth," has a mind-blowing vocal arrangement with a hook that will leave you breathless. It's like audio candy for power-pop fans. From there, they quickly give the rock and pop-punk enthusiasts something to get excited about with the fast and fun "I Need You," and the stunning "The Best Thing," with its pop pianos and quick rock chorus. The commercial hit of the record has to be "Must Have Done Something Right" with one of the best hooks in recent memory.
Complimenting the fantastic songwriting is the stellar sound. The majority of the production, this time around, is handled by the renowned Howard Benson (My Chemical Romance, All-American Rejects), and the result is a sonic treat.
What makes this a truly great record, though, is the final track, "Deathbed." Over 11 minutes long and with more than 100 tracks used to record it, this is an artistic tour de force with Jon Foreman of Switchfoot on guest vocals. This is not art for art's sake, however, or hard to listen to – this is a powerful and moving story of a man dying of lung cancer, his final thoughts of his past life and his journey into the next. The lyrics are straight forward: "Then Jesus showed up/Said before we go up I thought we might reminisce/See one night in your life when you turned out the lights/You asked for and prayed for my forgiveness."
Not since Terry Scott Taylor's "A Briefing for the Ascent" or Rich Mullins' "A Liturgy, A Legacy …" have we heard something this beautiful or emotive. This is how you effectively put the message of Christ, forgiveness and eternity into a song without making it sound like a witnessing track. Honestly, you may not recall the last time you were this moved by a song. "Deathbed" is the powerful engine in this really cool car that everyone will want to drive.


© 2007 CCM Magazine. All rights reserved. Used with permission. Click here to subscribe.