Big Daddy Weave's "Breathe" Encourages Constant Worship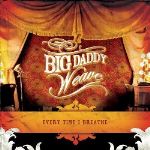 Artist: Big Daddy Weave
Title: "Every Time I Breathe"
Label: Fervent
Breathing for the average human: it's continual, sustaining, natural; and many of us do it about 21,000 times per day. Worship for the average Christian: it's sporadic, a temporary high, a conscious effort; and many of us do it about once per week.
With Big Daddy Weave's new album, "Every Time I Breathe," the five-member band challenges us to transform our worship into a life-giving necessity.
"How could I, after knowing One so great respond to You in any way that's less than all I have to give?" sings lead singer/songwriter Mike Weaver in the album's title track. This line sums up the strong suit of the album, its message to live as constant worshippers.
Musically, BDW breaths new life into older songs, such as Holland Davis' "Arise" and Rich Mullins' "Hold Me Jesus." The group kicks out the century-old church organ and plays rounds of rhythmic hand drums, plucking strings and infusing their trademark saxophone to the classic hymn, "Trust and Obey."
But, by the end of the album, you may have to stop and catch your breath. It is full of energy, ready to pack out venues for BDW's renowned live performances. Lyrically, each song is a reminder of God's purpose for our lives – to worship Him and, as Mike Weaver puts it, "to encounter God every moment, as naturally as taking your next breath."


© 2006 CCM Magazine. All rights reserved. Used with permission. Click here to subscribe.


Watch the latest Big Daddy Weave music videos on their official Godtube.com artist page!