Big Tent Revival -- Live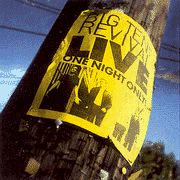 ALBUM:
Big Tent Revival LIVE
ARTIST: Big Tent Revival
IN A PHRASE: If you're a die-hard Big Tent fan, you'll enjoy this album.
GRADE: C
The great stuff we're used to hearing from Big Tent Revival is not on this album. Forget the moving ballads, smooth production and unique vocals we're used to.
I know live is different from studio, but the fact still exists that this recording is just downright RAW. I don't want to ruin it, so I will tell you the good points. The good points are there, you just have to find them.
Track 2,
Personal Judgment Day
- A great "blues" number. Definitely a high point.
Track 6,
Somethin' 'Bout Jesus
- Now this track was meant to be performed live!
Wrapping up with
If Loving God Was A Crime,
Two Sets of Joneses,
and
The Best Thing
the band regains its composure as they slow things down and say goodbye ... maybe for good. But you'll have to hear the album to see why I say that.
I think this is one of those CD's you have to be in the mood for. My final word for today ...
Stay away if you like smooth listening, but if you like a raw recording, this album's for you.
Until Next Time ...
The J Man
To purchase
Big Tent Revival Live
click
here
.