Cece Winans -- Cece Winans
Matthew Turner

Music and Entertainment Editor

2001

25 Oct

COMMENTS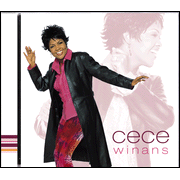 CeCe Winans -- CeCe Winans

This brand-new self-titled release from one of America's most-beloved singer/performers is the exact album that everyone knew CeCe Winans still had in her. It's happy, it's poignant and it brings together two of Cece's favorite things, R&B and worship. From the opening song, Heavenly Father, with it's subtle groove, it's evident that the musical influences in CeCe's life are deep and diverse. She draws from her years as the youngest member of the famous gospel family, the Winans, to her days of the now-defunct duo, Bebe and CeCe. Anybody Wanna Pray, with its Destiny Childesque beat and pure Gospel lyric is one the most inspirational songs from CeCe Winans.

The album also offers a little attitude. The kind of attitude you get from your momma. Out My House is a focused statement toward Satan. With flawless production, CeCe tells the father of evil to get out of her house. I have never heard Ms. Winans sound better.

CeCe Winans also has its share of powerful ballads. A welcomed moment from the past is her and Marvin Winans' duet, Bring Back The Days Of Yea and Nay. It's a statement song about how much we've changed over the years, about our contradictions, and where we should be. Holy Spirit, Come Fill This Place is a slow, worshipful song that is reminiscent of CeCe's past solo albums.

It's nice to see Cece Winans move into music that is so familiar to her, yet not give up her gospel roots. This album truly has something for everyone.

In a phrase: I am speechless ... CeCe Winans is one of the best albums this year. Period.

Production: A-
Content: A

To purchase the brand new Cece Winans click here.
Watch the latest CeCe Winans music videos on her official Godtube.com artist page!