Hymns Reinvented on Some Glad Morning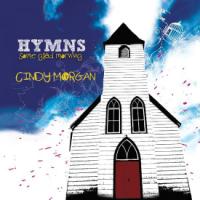 Artist: Cindy Morgan
Title: Hymns: Some Glad Morning
Label: Independent

I've no idea the specific reasons behind Cindy Morgan taking on her most recent project. But it's as if the longtime songwriter surveyed the all-too-familiar landscape of worshipful releases filled with hymns and finally decided to do it right. Hymns: Some Glad Morning, Morgan's own attempt at the subgenre, is indeed a pitch-perfect release of what a hymns project should be.

Familiar tunes abound on Hymns: Some Glad Morning, but each and every track brings a questioning glance and some form of the question, "This can't be [insert track name here], is it?" Therein lies the beauty of Morgan's reinventions. Each song roots itself just enough in the rich gospel tradition without relenting to the predictable formats that have gone before.

No track is more striking than the lead one, "I'll Fly Away." Starting with thumping upright bass and Morgan's superb vocal, the album becomes a front porch romp with beautiful slide guitar work and rich harmonies that bring the whole affair together. You simply have to hear this one yourself. "Just As I Am/I Come" gently settles on the senses with its tender refrain and subtle call. Morgan's sparse arrangement perfectly suits the lyrics.

Other favorites include "It Is Well" and "Jesus Joy/Sweet Hour of Prayer." Yet Morgan also brings some originals to the table, the strongest of which is "Worry." Phil Madeira's slide work evokes an earthen feel, and the layered harmonies on the refrain make it the album's other highlight. Morgan is in full control on this project, and her creative mastery of the material makes this perhaps the best hymns project ever released.





© 2010 CCMmagazine.com. All rights reserved. Used with permission.

**This review first published on June 8, 2010.