Indie Rock Roots Maintained on Abandon Kansas' Debut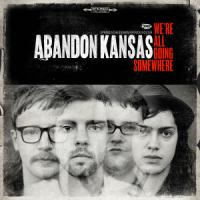 Artist: Abandon Kansas
Title: We're All Going Somewhere
Label: Gotee Records
Indie cred coupled with mainstream appeal …

The moniker Abandon Kansas is remarkably fitting for this four-piece alternative rock outfit hailing from Wichita.

While the group amassed so much attention locally that its sound earned the attention of Gotee Records, this debut EP (available exclusively on iTunes) maintains its artful, indie rock roots—yet creatively manages to have mainstream appeal in the process.

Part of that winning formula may have to do with producer Mark Townsend, who's crafted a similar equilibrium with previous collaborators like Relient K and House of Heroes. Nonetheless, Abandon Kansas scores kudos all their own for writing instantly attractive hooks, towering melodies and astute spiritual insights (in the latter category, most notable is the wondrous "We're All Going Somewhere").

But the ultra-sharp players' musicality is truly the centerpiece on songs like growling opening cut "The Harder They Fall" and its fervent follow-up "I Wonder If It's Me," both falling somewhere in between the stylings of House of Heroes or This Beautiful Republic. "Close Your Eyes" isn't as intense straight out of the gate, but it builds in grand fashion to once again highlight Abandon Kansas' gritty guitar lines and militant beats. In fact, that finale to this six-song offering leaves listeners wanting much more, building anticipation for a full-length offering that will hopefully follow in rapid order.

© 2010 CCMmagazine.com. All rights reserved. Used with permission.

**This review first published on March 2, 2010.