International Eyes Influence Newworldson's Second Set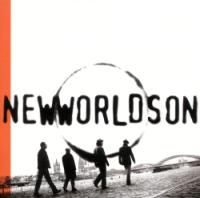 Artist: Newworldson
Title: Newworldson
Label: Inpop

Roots rock collection's second set a big score …

After the release of their debut, Salvation Station, in 2008, roots-rock band Newworldson sustained a media blitz any new artist would envy, including a handful of Juno nominations, GMA Covenant Award wins and a slot on a slew of critics' picks lists. But what impacted the Canadian combo the most? Its growth as an international artist.

Having spent the past two years touring not only North America, but all over the world, Newworldson combines their newfound international eyes and famed grooves to record a bigger, and more diverse, sounding collection than before.

For instance, "Total Eclipse" gets the official reggae treatment thanks to front-man Joel Parisian's back and forth with Christafari's Mark Mohr and the "Jamaican Praise Medley" is self-explanatory, with a native Caribbean choir wailing, "I wish somebody's soul would catch on fire with the Holy Ghost."

But there's more than world flair here. While "Listen to the Lord" is carried by a Calypso two beat, gutsy guitar grit and a slashy organ interlude distinguish it from a straightforward island tune. "There is a Way" features Parisian's vintage blue-eyed soul revival, akin to Gavin Degraw's vocal prowess, and thick Gospel voices to huskily evangelize Jesus as the "truth and the life the way." And "That's Exactly (How I Like It)" brings in 'da funk a la Harry Connick, Jr.'s She era, jam-packed with full band hits and brawly background vocals.

But the stand out track is the understated "Rocky Road," perfectly balancing singer Parisian's oh-so-soulful lead with a classic retro track, accompanied by the warmest retro Wurlitzer this side of Motown and brimming with a message of grace to fellow sinners along the road.

Sensational musicianship, keen lyrical themes and a bossy vibe that is just plain cool, Newworldson's "it" factor is off the charts.

© 2010 CCMmagazine.com. All rights reserved. Used with permission.

**This review first published on March 18, 2010.