Josh Wilson Debuts with Ocean in a Cup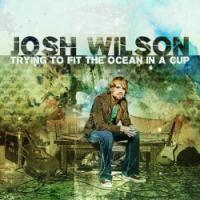 Artist: Josh Wilson
Title: Trying to Fit the Ocean in a Cup
Label: Sparrow Records
Surprising, great pop debut …
Josh Wilson's lucky or talented, but the latter is more likely the case. After all, he bit off what initially seems to be more than he can handle on his Sparrow debut, Trying to Fit the Ocean in a Cup. The acoustic pop pool he chose to wade into is already overcrowded and, on the surface, his songs conjure thoughts of "more of the same."
But four minutes later, you're still listening. Not only that, you're completely drawn in. Wilson croons, charms, inspires and moves his way into your heart via the ear that quickly. "3 Minute Song" slightly jabs the radio industry, as Wilson struggles to define himself "if all I've got's a three minute song." Next, the quasi-spiritual love song, "Turn Around," rides with its quirky windows down and a slight country tinge.
Trying effortlessly moves from light-hearted territory to heavier fare, especially on the perfectly timed "Something's Got to Change." The piano-driven song drones with a spirit opposite the buoyant earlier tracks, but Wilson commandeers his way impressively. The same can largely be said of closer "Beautiful Like This."
So instead of being overwhelmed, Josh Wilson debuts as the "new guy" that makes everyone else jealous for his grand entrance.




© 2008 CMCentral.com. All rights reserved. Used with permission.




Visit CMCentral.com now and join the single largest online community of Christian music fans on the internet. CMCentral features daily music news, exclusive interviews, album reviews, weekly devotions and feature articles written by some of your favorite Christian artists, and much more. CMCentral is also the home of the most popular Forum for Christian music fans that you'll find anywhere on the Internet. Come see what all the buzz is about!

**This review first published on May 19, 2008.