Joy Williams -- Joy Williams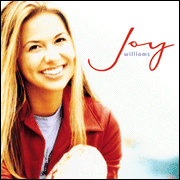 ALBUM:
Joy Williams
ARTIST: Joy Williams
IN A PHRASE: If you mix together the sounds of Stacie O. and Rachael Lampa, you get new Reunion Records artist Joy Williams.
GRADE: B
Joy Williams' debut self-titled CD shows a lot of promise. I must admit it's been in my CD player a lot since I got it. The reason? This album has the ability to create interest with the teen pop crowd and adult contemporary listeners at the exact same time.
Let's get to it, people. Here's "The Hit List"!
It's All Good - Somewhat low-key for an opener, but the groove still keeps you moving.
No Less - This is where the ingredient of Stacie O. touched my taste buds. I love it! It's in a tie for my favorite track. Crank it up!
I Believe In You - You've probably already heard this song from the Left Behind soundtrack. The Rachael ingredient pops up here. It'll probably become the hit for Joy, that Blessed was for Rachael.
Up - This is the track tied with No Less for my fav. All I can say is that you won't sit down during this song.
Second Nature - An upbeat testament to the fact that life in Christ should be as easy as breathing itself.
Do They See Jesus - Joy offers us her heart for ministry in this moving ballad.
I gave this album a "B" because, at times, I got the feeling of "been there, done that." As I look past that, let me give you my final word:
Joy Williams is a great debut and will be enjoyed by all different kinds of fans alike, and I think this marks the entrance of the next "big" voice in Christian music.
Until Next Time ...
The J Man