Mixed Breeding Is What Makes Lost Dogs' "Mutt" So Special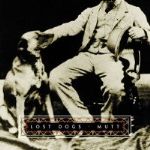 Artist:   Lost Dogs
Label:   Lo-Fidelity
The Lost Dogs are dedicated explorers of American roots music; but on its new "Mutt" album, these three united artists (Terry Taylor, Derri Daugherty and Mike Roe) have reconnected with the roots closest to the tree, so to speak.
Instead of creating an album of all new tracks, these established singer/songwriters have chosen to re-record a set of their other bands' familiar and unfamiliar songs.
For instance, Mike Roe (77s) sings lead on The Choir's "To Cover You," Derri Daugherty (The Choir) revisits Daniel Amos' "Ain't Gonna Fight It" (which he once sang in his dad's church as a high schooler!), and Terry Taylor (Daniel Amos) adds his voice of experience to Roe's "The Lust, the Flesh, the Eyes and the Pride of Life."
Steve Hindalong (The Choir, "City on a Hill" series) helped produce this album along with the trio itself and created a recording that retains a mostly quiet and acoustic aural quality. One exception to this rule, however, is a new take on the old 77s' song, "It's So Sad," which has been revved up with unbridled rockabilly power for this unique release. And speaking of new things, there's also one fresh Taylor/Hindalong composition, "I'm Setting You Free (But I'm Not Letting You Go)," which addresses the heartache associated with watching children grow up and leave the nest.
Don't be misled by this CD's title because it's the mixed breeding that makes this release so special.

© 2004 CCM Magazine. All rights reserved.  Used with permission.  Click here to subscribe.