Pillar Wears Faith Well in For the Love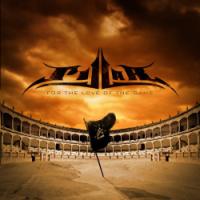 Artist: Pillar
Title: For the Love of the Game
Label: Essential
Contemporary Christian music and '80s era metal might seem like strange bedfellows, but one listen to Pillar's For the Love of the Game will erase those notions. This hook-heavy disc features a slew of high-energy rock anthems, a few power ballads, and just enough of the band's old rap-rock stylings thrown in to keep older fans happy.
While the CD awakens memories of a musical time gone by, it also pays homage to the world of contemporary Christian music. Pillar is unabashedly unashamed of their place in the Christian music industry, and they aren't afraid to wear their faith on their sleeves as they call on listeners to do the same.
This is particularly evident in the title track, as well as songs like "State of Emergency" and "Get Back." Meanwhile "Turn It Up" provides us with a CCM version of "Name That Tune," featuring lines from 34 different artists, ranging from Michael W. Smith to Disciple.
With For the Love of the Game, Pillar and producer Travis Wyrick have created an album that could generate plenty of hits for Christian radio, and will have you singing along loudly while pumping your fist in the air.

© 2008 CCM Magazine. All rights reserved. Used with permission.
Check out Pillar music videos at Godtube.com.