Pocket Full of Rocks' Manifesto Falls Short
Grace S. Cartwright

CCM Magazine

2007

23 Jul

COMMENTS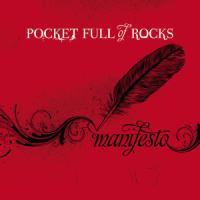 Artist: Pocket Full of Rocks
Title: Manifesto
Label: Myrrh
As a follow-up to its highly acclaimed debut, Song to the King, as well as its two Dove nominations, the second project from Texan quintet Pocket Full of Rocks falls a little short.
Lead vocalist Michael Farren lacks the range of Casting Crowns' powerhouse Mark Hall, which is needed for the charismatic "Beautiful You." His delicate, yearning vocals are better suited to songs such as "Who Is This King?" where his David Crowder-esque stylings carry the ballad to soaring heights.
Also, the track "It Is Good to Be Here" is the best showcase of the group's vocal and instrumentation, featuring a singable chorus and rousing drum backbeat, reminiscent of its previous single "The Welcome Song." The band's instrumentation succeeds on the jazz-based "Take Me There" but falters on "At the Cross" where a lackluster guitar line disappoints.
Ultimately, what Pocket Full of Rocks lacks in vocal prowess, they more than compensate for in heart. What shines through in Manifesto is the theme of grace, summed up in "Even the Worst of Us," where the verse states, "Come you broken lonely/From the rubble find your place/ . . . greater than our demons are the open arms of grace."
Even with a few uninspiring sequences, Pocket Full of Rocks delivers a fairly substantial second album.


© 2007 CCM Magazine. All rights reserved. Used with permission. Click here to try a free issue.