Samestate Positioned to Rock with Alignment
Glenn McCarty

Crosswalk.com Contributing Writer

2012

7 Mar

COMMENTS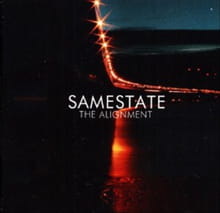 Artist: Samestate
Title: The Alignment
Label: Sparrow
Kansas newcomers Samestate offers accessible, meat-and-potatoes pop/rock on its major label debut, The Alignment. With its big, anthemic choruses and passionate delivery, Samestate is covering the same ground as acts like Tenth Avenue North and Sidewalk Prophets, but there's a certain amount of accessibility and affable gusto at work throughout The Alignment.
Lead single "Hurricane" has a memorable hook with a memorable lyric ("All at once, heads are spinning faster like a hurricane, 'cause all we did was nothing, but love still came and it's bringing in good news.")The same can be said of "Sons and Daughters," which has more straight-ahead verve with a touch of rock crunch below it. Lead singer and songwriter Dalton Diehl knows how turn a phrase inside a hook, especially on "Sons and Daughters," when he sings, "We live the reaping life, surrounded by family trees, when there's nothing left inside, we look back at history/ We are the reenactment, we are the sons and the daughters, for what has already happened, we're coming back to the Father."
"Shadows" and "King," are similar wall-of-sound type numbers with encouraging messages. Diehl's big-voiced rasp is a good match for these anthems. "Wake Me Up" is cut out of the Stadium Rock playbook, and "Hearts Like Fire," on which Diehl affects Adam Levine sass over handclaps, is a bit different, but still a straight-ahead rocker. Samestate deviates slightly from its paradigm for a few lower-key songs. Swirling Radiohead-type keyboards lead into finger-plucked acoustic on the hollow "Upside Down," while "Symphonies," feels a bit too much like an open-mic night with only solo acoustic guitar and Diehl's voice.
More encouraging is a track like "Love Remembers," which is more of an Americana-flavored, Ryan Adams-type number. It's refreshing in what it attempts, incorporating more eclectic instrumentation with steel guitar and mandolin. There's not quite enough of this type of nuance on The Alignment, as much of it hovers close to middle-of-the-road. But in terms of craftsmanship and passion, there are positive signs on The Alignment, however, that given a little seasoning, Samestate could carve out a nice niche for itself.