Shaun Groves -- Invitation to Eavesdrop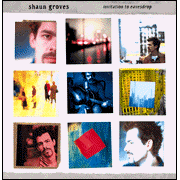 ALBUM:
Invitation To Eavesdrop
ARTIST: Shaun Groves
IN A PHRASE: Once again, Rocketown Records shows us that they know how to pick 'em!
GRADE: A
Michael W.'s record company projects a sense of success with new artist Shaun Groves. His lyrics are poignant, like those of labelmates Ginny Owens and Chris Rice, with just a little more rock edge. I'm telling ya, Shaun knows how to rock.
Every track is good. How can I pick the top five? Well, here goes. Give it up for "The Hit List."
Should I Tell Them
-- Awesome opener! Somewhat a story song as Shaun conveys the heart of the Christian artists we listen to everyday.
Damage Done
- A track from a heart crying out for
forgiveness
. One of the CD's best!
Two Cents
- A contemplative look at the old cliché.
Satellite
- Could easily become a modern worship classic!
Last Notes
- A unique look at death, which, for Christians, is the beginning of true life.
Oh, so much more I could say! Make sure you listen for a certain lyric in Track 9. "I wanna see from Your side of the sky." Lyrics like that, great production by Monroe Jones, and Shaun himself makes this album one of the best albums I have heard this year.
My final word: Please eavesdrop! Shaun invites you to, and so do I. You won't regret it.
Until Next Time ...
The J Man
To purchase the new Shaun Groves album click
here
.