The Light Meets the Dark a Sure Fan-Pleaser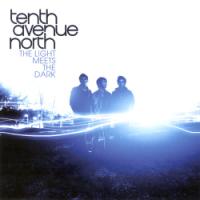 Artist: Tenth Avenue North
Title: The Light Meets the Dark
Label: Reunion Records

"Here is where the healing begins." Here's also where the splendid sophomore album begins—with a lead single that quickly establishes 2009's Best New Artist as poised for long-term success. The Light Meets the Dark takes the pop/rock elixir served up on 2008's Over and Underneath and largely hits "copy and paste" to create a strong sister release sure to gives fans more of what they wanted.

"Healing Begins," an odd, mid-tempo choice to open the proceedings, finds vocalist Michael Donehey as clear as ever and the album's title emotionally filling the bridge. A Fray-like piano structure carries "Any Other Way," a solid pop number that should garner a radio release. "All the Pretty Things" echoes Starfield and Delirious? with its arena-ready chorus and expansive feel.

"House of Mirrors" instantly slides into "future live favorite" category with it's "C'mon, c'mon" chorus, high-octane vocal delivery and solid modern-rock build. It's impossible not to go along on the journey Donehey invites you on. "Empty My Hands" slows things and keeps a sharp lyrical focus with the succinct prayer, "Empty my hands/Fill up my heart/Capture my mind with you."

If there's a sure bet among contemporary Christian's younger pups, Tenth Avenue North is the choice. The Light Meets the Dark copies and pastes a mix that worked wonders the first time around and should continue to excel in the current musical marketplace.




© 2010 CCMmagazine.com. All rights reserved. Used with permission.

**This review first published on June 1, 2010.