"WoW Worship Red" Mostly Hits the Bull's Eye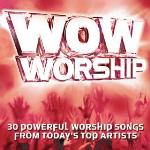 Artist:     Various
Labels:   Word, EMI-CMG Label Group, Provident Music Group
Like many multi-artist collections, "WoW Worship Red" has a two-fold purpose: to introduce new fans to worship songs that'll entice them to purchase existing praise products and to place new songs by established artists to encourage longtime fans to pick up this particular disc. With these objectives in mind, "WoW Worship Red" succeeds, mostly, at both.
Of the 12 new songs, six really stand out, four are slight disappointments, and two are, well, OK. Of the winners is Bebo Norman's "Amazing Love," the familiar Graham Kendrick song, that he reworks with his golden vocal touch. Reaching even further back in time, Jaci Velasquez does the same with "Sanctuary," singing lightly over an arrangement reminiscent of Cindy Morgan's "Listen" era.
Other exemplary moments include ZOEgirl's "Jesus, Lover of My Soul," which continues the group's move out of the "girl pop" genre, FFH's flawlessly layered "Spirit of the Living God," which provides goosebump-inducing vocal delivery, Casting Crowns' "Beautiful Savior" and Jars of Clay's "I'll Fly Away."
While the rest of the collection serves as a great worship overview, a couple of missteps in song selection beg the question: Do we really need yet another placement of Michael W. Smith's "Above All" or Delirious' "Did You Feel the Mountains Tremble?" But aside from that, "WoW Worship Red" largely succeeds.

© 2004 CCM Magazine.  All rights reserved.  Used with permission.  Click here to subscribe.