Revolution Marks Brouwer's Best Work to Date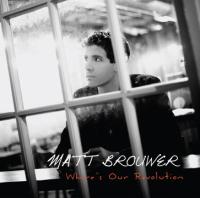 Artist: Matt Brouwer
Title: Where's Our Revolution
Label: Independent
Brouwer shows songwriting chops …
The new album from Matt Brouwer is different from his 2001 major label debut, Imagerical (Reunion), a pop/rock worship album. It even shows a slight departure from his last full-length indie project, the alt/rock/country Unlearning.
But even where previous efforts led Brouwer in different directions, it sounds as if those roads led more or less to Where's Our Revolution, a collection of pop/rock songs with some Texas/country flavor, masterminded by award-winning producer Michael Omartian (4HIM, Vince Gill).
Highlights include the melancholy opener "Come Back Around," the exultant "Beautiful Now" and addictive pop tunes "Sometimes" and "Please Say." Guest vocals by Amy Grant and Vince Gill on "The Other Side" add comforting tones to a song of sad but hopeful loss. Brouwer poses questions of consequence, acceptance and faith in community in the title track and "Running to Begin." After all the roads traveled, Brouwer thinks fondly of home in "Writing to Remember."
Brouwer hasn't simply reinvented himself. Instead, it seems he has tapped into the songwriter within. This is Brouwer's best work to date. The songs have greater depth and wider scope. Where's Our Revolution is an album of pop hits and spiritual moments, musings of home and longings for relationship. These songs are filled with daring hope, brilliant dreams and tender love.





©2008 ChristianMusicPlanet.com. All rights reserved. Used with permission.

*This review first published on September 18, 2008.