Ruben Studdard's "I Need an Angel" a Nod to Spiritual Roots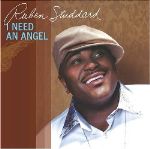 Artist:  Ruben Studdard
Title:  "I Need an Angel
Label:  J Records
With his outspoken acknowledgment of his spiritual roots, it's only fitting that "American Idol" Ruben Studdard's latest offering be centered around spirituality, which is just as bold and noticeable as the relative newcomer's bountiful pipes.
Some of the material found within "I Need An Angel" will be instantly familiar to listeners, while other tracks are likely to fall upon a fresh ear, though both categories are sung within Studdard's congenial style. Several cases in point are the rousing Fred Hammond cut "Running Back to You," a collaboration with that very same gospel great, the hip-hop-splashed "We Have Not Forgotten" and R. Kelly's meditative ballad "I Need An Angel." Add on MaryMary's Tina Campbell ("Ain't No Need To Worry") and Harvey Watkins, Jr. ("Fix It, Jesus"), and this star-studded ringleader is destined to delight.
However, there are a few missteps found in the widely-covered "Amazing Grace" and "Shout to the Lord." Both suffer from weak arrangements and predictable choir insertions. Had they been replaced with something that bears resemblance to the aforementioned Kelly cut or perhaps something self-penned, the singer would have been much better showcased. But even in those shortcomings, Studdard is still poised to have an incredible impact on listeners from all belief backgrounds.

© 2005 CCM Magazine.  All rights reserved.  Used with permission.  Click here to subscribe.