Running Away in a New Direction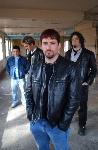 As a rowdy teen rocker in the early '90s, Vince Lichlyter found no shortage of inspirational angst in the Seattle scene he called home. Running away at age 13, the promising musician spent six years living in boarding homes and on Seattle's rainy streets steadily working his way up the drug ladder. Today, those six blurry years give the singer fresh inspiration manifested in a new rush called Jonah33.

Inspired by the scripture to which the band name relates (Jonah 3:3), Jonah33 represents hard rock at its finest with a scorching self-titled bow that blends visceral organic energy with innovative technical touches. The band – which also features guitarist Jeff Cazzell, drummer Joshua Dougan, and bassist Pete Eekhoff - uses its passionate rock drive to hammer home a ministry mandate to reach youth with the same answers that its singer once sought.

"I got saved out of frustration because I was sick of where my life was headed," says Vince. "Since then, I vowed not to write another song that didn't in some way glorify God. There are no songs about relationships, girls, or frustrations with the system. I've really stuck to my guns."

Looking back, Vince found public high school to be the perfect breeding ground for his rebellious roots having spent his previous years in Catholic school. Adopted by his parents at age three, the future singer soon found himself butting heads with his father, a no nonsense type of guy that actually served as a Master Sergeant in the Air Force.

"I remember being so upset with my parents," says Vince. "I would go downstairs to my room, turn on my amp, and play for hours alongside Dio, Metallica, and Iron Maiden albums. Sometimes I played all night long until my fingers bleed."

The disagreements intensified and began to occur more often. Eventually the day came in which the running started.

"The first time I smoked pot," recalls Vince, "I was in my dad's shop playing guitar with a friend. As luck would have it, my dad busted us. He pounded on the door saying, 'Why you guys locking the door? I know why. You're smoking dope!' That night, he lectured me about how it's his way or the highway. It backfired on him because I chose the highway."

Over the next six years, Vince returned home on three brief occasions, and each time the prodigal son was put into professional counseling. It generally took just a few weeks before he headed back out.

"I was so rebellious and such a punk that I just kept running," continues Vince, who notes that conflicts generally followed boredom. "If I was in a group home and got sick of it, I would either start a fight, find a fight, or get into an argument with a counselor that got me thrown out. It was a constant vicious cycle of rebelling that kept getting deeper."

By age nineteen, Vince had become hooked on crank, and his life was swiftly slipping past the point of no return. With his family now in Arkansas, he knew this return home had to be his last.

"My dad picked me up from the airport about two hours away from where they lived, and I slept the whole way home," recalls Vince. "I entered the house, went to the guest bedroom, and crashed for the next 2 1/2 days straight. When I woke up, my sheets were yellow from sweating out the chemicals. I didn't experience any physical pain during my withdrawal period. I felt blessed because I've heard some real horror stories about what other addicts have gone through."

From his first days on the streets, there wasn't a year in which Vince wasn't in a band at some point. Following his arrival in Arkansas, Vince set upon a determined new path, and these changes were reflected in the music he wrote. After being clean for several years, Vince became active in youth ministry and eventually saw music as an avenue to tell what he learned from his experiences. Forming Jonah33, the singer led his new band to Memphis to record, and as the sessions processed, the buzz coming out of the studio helped land a label deal with Ardent Records.

Produced by Skip Mills (Audio Adrenaline, Skillet), the group's self-titled debut encompasses a passion and vision that can only come from someone who once felt the thud of a rock bottom crash. For so many years, Vince didn't know how he would turn his life around, and these feelings are perfectly reflected in the group's current radio single, "All For You."

"This song is a response to people trying to work their way to God," says the reformed singer. "Too many people believe they need to get cleaned up before they come to Christ, and I wrote this song to remind them that there's nothing they can or cannot do except believe."


Click here to subscribe to CCM Magazine.