Rush of Fools: Learning Curve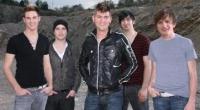 Rush of Fools wants a demotion. Yes, you read that right … a demotion.
"I hope God continues, in His mercy, to give us songs that demote our value, because that's what it's about—worshipping Him and demoting us," explains guitarist/vocalist Kevin Huguley. "Right down to our name … We are just a bunch of fools."
Huguley is one of five members of rock/worship band Rush of Fools, made famous by hit single "Undo" from the band's debut album on Midas Records. The band members range in age from 19 to 26, and Huguley says they are grateful that God has molded them into the friends they are now. "We went from 'I-don't-know-your-birthday-or-middle-name,' to knowing everything about each other. Everyone has to remember that we didn't grow up together; we aren't brothers; we aren't related. We all really have become pals that God threw together. We also know how to get on each others nerves," he laughs.
"The past two years have been a great journey, but really a long road. We are the first to say [that] it's hard when you're in a van for 200 days out of the year," continues Huguley. "For those of us who are married, our wives are the best. We want our families to come first. We know if we mess up what is going on in our homes, then we will fail out here."
When asked how their walks have been strengthened, Huguley hesitates. "I struggle with saying our walks have been 'strengthened.' We don't pretend to be on this spiritual high," he assures. "We had to learn it's much more difficult to have a daily quiet time. We have to remind each other. We have devotions together, and we make sure we are praying together and sharing struggles. It is time management, you know? Not just in life but in daily things. Every day is precious, and every minute is precious. I have to think, "Should I run and get that coffee, or should I take a walk with Jesus?"
The guys should know all about time management, having been on extensive tours with bands like Newsboys this past year. "It was surreal. Here we are, a little worship band, playing stadiums and arenas in front of 8,000 people with Newsboys," says Huguley.
The band's relationship with the mega-group became very personal about a month ago, when Rush of Fools faced its greatest obstacle yet as a band: a stolen trailer packed with all its equipment and merchandise. "We thought we lost everything. God eventually gave it back to us, but we didn't know what we were going to do. Peter Furler [Newsboys' lead singer] called me and said, 'Our warehouse is nearby, so go take anything you need. You guys can keep it as long as you need.' We were so grateful."


© 2008 CCMmagazine.com. All rights reserved. Used with permission.

**This interview first published on September 19, 2008.