Sallie's Transformation Made Plain on "Ordinary"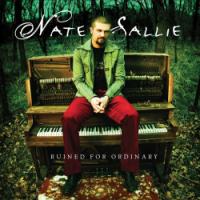 Artist: Nate Sallie
Title: "Ruined for Ordinary"
Label: Curb Records
Many of us have fallen into a routine in our lives. In fact, it's pretty comfortable to have a fair amount of predictability to our schedule. We may like surprises now and again, but most of us would prefer to know what's coming ahead. We like to plan things out and be prepared to react appropriately to them. However, our walk with God isn't at all predictable. The Bible tells story after story about people who had their "regularly scheduled" lives interrupted by an encounter with God. And despite not knowing what lay ahead, their lives were exhilarating and fulfilling.
Having gotten all but burnt out with the daily rigors of life himself, Nate Sallie reached a breaking point shortly after his debut pop album, "Inside Out," released back in 2003. After an extended absence from the music industry, Nate then found the abundant life that Scripture promised, and a breakthrough followed shortly thereafter. The result is an eleven track album, "Ruined for Ordinary," which shares Nate's internal transformation with listeners everywhere.
Opening with "Breakthrough," the subject matter is introduced quickly and the discussion expands as the album is further unpacked. Tracks like "Holy Spirit" talk about the power of being filled with and led by God, while "Undercover Belief" and "What I Believe" talk about expressing your faith openly and visibly with our actions.
"Ruined for Ordinary" has such a vastly different sound than the debut, that it's almost hard to believe that they were created by the same artist. Where "Inside Out" had a straight teenager, boy-bandish pop sound to it, "Ruined" has a mature piano-based pop appeal to it that infuses a bit of a New Orleans-style jazz feel on tracks such as "Look at Me Now" and offers a more fully orchestrated sound overall. Nate's vocals prove to be quite charming throughout the album as well, with a texture and style that fits each track like a glove and keeps the listener interested in the lyrics. Some highlights from the album include "Look At Me Now," with a rather entrancing soundtrack, "Undercover Belief," which would likely go over well on radio, and "Ruined," which shows a nice range and is quite endearing.
Given his past album, Nate Sallie may very well be the surprise of the year. With a smooth and mature sound, "Ruined for Ordinary" is one of the more enjoyable pop albums thus far this year. It's a very fun album with a lot of good lyrical content to mull over. Impressive album overall.



© 2007 CMCentral.com. All rights reserved. Used with permission.



Visit CMCentral.com now and join the single largest online community of Christian music fans on the internet. CMCentral features daily music news, exclusive interviews, album reviews, weekly devotions and feature articles written by some of your favorite Christian artists, and much more. CMCentral is also the home of the most popular Forum for Christian music fans that you'll find anywhere on the Internet. Come see what all the buzz is about!