Salvador Retools and Tweaks on "So Natural"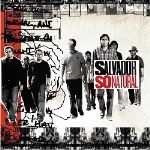 Artist:  Salvador
Title:  "So Natural"
Label:  Word

Since splashing onto the Latin-pop/worship scene in 2000, gifted octet Salvador has established itself as one of Christian music's most captivating live bands. Known for cooking up a diverse musical stew that includes salsa-flavored praise & worship and funky rock seasonings, Salvador retools its lineup and tweaks its sound template on this third studio project and fifth career disc. Song themes are mostly vertically directed and range from the importance of serving others unconditionally ("It Comes Back to You") to recognizing the power of God's Word ("La Palabra").
While previous outings found the group relying heavily on formulaic lyrics and an easily recognizable style, "So Natural" reveals refreshingly mature songwriting and musical breadth. But one feature that remains unchanged is front man Nic Gonzales' first-rate vocals, which sound even stouter this time around. Whether belting out jazz-tinged high notes on "Can You Feel (The Supernatural)" or tipping a Texas-sized cowboy hat to Los Lonely Boys on "Heaven," Gonzales' voice is sturdy yet supple.
Four new members join Gonzales and his experienced crew to assemble a band that delights in playing every note, loop and instrument heard on "So Natural." Co-produced by Gonzales and Chris Rodriguez (Amy Grant, Michael W. Smith, Shania Twain), the disc will likely resonate with adult contemporary listeners. Tracks like "This Is My Life," which includes the refrain from "How Great Thou Art," probably won't get too many repeat-button pushes from the younger set, but high-octane selections such as funk-infused standout "Cover Me" and Santana-esque number "Glimpse of His Heart" should more than satisfy.

© 2005 CCM Magazine.  All rights reserved.  Used with permission.  Click here to subscribe.