Salvador's "Mystery" Only Partially Captures Energy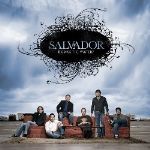 Artist:  Salvador
Title:  "Dismiss the Mystery"
Label:  Word Records
What's the greatest commandment? Anyone who's attended Sunday School will likely have the answer on the tip of their tongue almost as a reflex action. "Love the Lord your God and love your neighbors as yourself."

Though the answer may come quickly, easily and without much thought, how many of us have really grappled with what that commandment actually means? Rather than debating the finer points of theology or non-essential religiosity we should be asking ourselves what it means to really love our neighbor and how we can make that a trademark of our lifestyle.
With their sixth album in just seven years, Salvador offers a musical exploration of this and other questions on  "Dismiss the Mystery." Opening with "Now That I Have You," the album kicks things off with a clear focus on how God can and should change our lives when we allow Him. The album continues down that path, discussing the need to grow more Christlike and by the title track, listeners are encouraged to take their focus off of trying to be right in regards to minor issues and instead make sure we have taken the time to show love to those around us. Throughout the album, this theme of renewal is centered around the understanding that all of this growth and change is only possible with God's help.
When it comes to the music, fans should already know what to expect. Salvador is very well known for their busy tour schedules and their exuberant live show which has consistently made them a crowd favorite. And the album starts off capturing this energy with two lively tracks, "Now That I Have You" and the infectious jam, "Can't Find the Reason." Unfortunately, the album takes an obvious turn away from the lavish horn parts and bass lines trending toward a watered-down sound as found on tracks such as "Shine" and "None Greater Than You." The remainder of the album feels like a struggle between a raw, free tone and a cleaned-up, radio-worthy sound. In light of the promising start, that makes the album a bit frustrating for listeners.
Overall, "Dismiss the Mystery" has a lot to offer, boasting twelve tracks and a handful of musical highlights. Listeners will certainly get a slight taste of the group's live show and want more and despite some disappointments, there's plenty of reason to celebrate this release. Salvador continues to work hard and set the standard for Christian music with a Latin flair.


© 2006 CMCentral.com.  All rights reserved.  Used with permission. 

Visit CMCentral.com now and join the single largest online community of Christian music fans on the internet.  CMCentral features  daily music news, exclusive interviews, album reviews, weekly devotions and feature articles written by some of your favorite Christian artists, and much more.  CMCentral is also the home of the most popular Forum for Christian music fans that you'll find anywhere on the Internet.  Come see what all the buzz is about!