Same Spunk, More Progression on Jump5's "Dreaming in Color"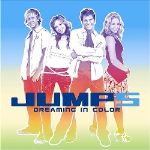 Artist:  Jump5
Label:  Sparrow Records
With each Jump5 album that drops, there's been continued development, an increased impact on pop culture (including multiple television and motion picture soundtracks) and remaining relevance with its 'tween and teenage audience. Aside from a steady presence in such spectrums, there's been a recent line-up shift, which leaves Brandon and Brittany Hargest, Lesley Moore and Chris Fedun as a foursome after Libby Hodges recently stepped down.
Though the equation has shifted, the spunky overall formula remains on "Dreaming in Color," a disc assembled with Jump5's usual energetic charm but also with a more progressive direction derived from the members' personal and musical growth. On "Just a Dream," it's obvious that the guys' voices have gotten deeper and smoother; and, although there's some space-age sampling, much of the track revolves around live pop players. That trend continues throughout the bouncy attack of "In My Heart"  and the glossy, Hilary Duff-like "Feels Like Falling."
"It's a Beautiful World" identifies quite closely with the group's fan base, touching on issues of self-esteem, pursuing dreams and keeping one's life rooted in the Christian perspective. Lines like "It's about friends, it's about school, it's about changes/The ones you never thought they'd put you through" personify the growing pains currently faced by Jump5's audience on a direct, empathetic level.
The only instances that are a bit less appealing are the glossy "Mind Your Head" (which sounds outdated in the Spice Girls realm) and the overly cheerful "I Got the Music In Me" (falling toward the "Mickey Mouse Club" category). But even with that straying, the foursome that now makes up Jump5 connects with one of its most variety-filled and relatable releases to date.

© 2004 CCM Magazine.  All rights reserved.  Used with permission.  Click here to subscribe.