Sara Bareilles Seeks Light in the Limelight
Jeff Koch

2014

13 Jan

COMMENTS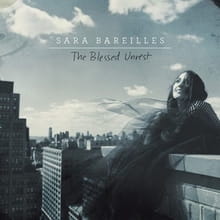 (WNS)--When singer-songwriter Sara Bareilles found out that her new album was nominated for Album of the Year in this year's Grammy Awards, Bareilles simply "ran around screaming my head off," according to an interview with MTV. She tweeted later that day, "I never in a billion million years thought I'd be nominated for Album of the Year. I'm literally shaking."
Bareilles wasn't the only one taken off guard. The Blessed Unrest garnered unimpressive sales numbers compared to fellow nominees Taylor Swift and Kendrick Lamar, and media outlets were blatant about their surprise: A Huffington Post headlineread "Sara Bareilles' Grammy Nominations Come As A Complete Surprise."
But Bareilles has practically made a career of surprises and underdog victories. In 2007, her label pressed her to write radio-friendly hits because she lacked a commercial breakthrough. Bareilles rebelled and wrote "Love Song" to tell the label executives, "You and your twisted words/Your help just hurts … I'm not going to write you a love song." Listeners enjoyed her backbone—along with her powerful piano chops and terrific voice The song shot to No. 1 on the Billboard Adult Contemporary Chart and won her a Grammy nomination for Song of the Year.
She displays the same spunky defiance on The Blessed Unrest, a witty collection of acoustic piano-pop songs in the vein of Billy Joel. She kicks things off with the danceable "Brave," written to encourage a gay friend to come out. The non-specific lyrics, however, allowed the song to find a different stride in October 2013, when two nurses at University Of Minnesota Amplatz Children's Hospital produced a powerful video of young cancer patients singing and dancing to the tune. The lyrics fit with the courage of these children, many bald from treatment and hooked up to machines: "Everybody's been there/Everybody's been stared down by the enemy/Fallen for the fear/And done some disappearing … Maybe there's a way out of the cage where you live … show me how big your brave is."
Her latest effort also reveals her to be a thoughtful songwriter wrestling with fundamental issues. "Chasing The Sun" chronicles the reflections inspired by a jog through a cemetery: "So I thought to myself/Sitting on a graveyard shelf … the gift of my heartbeat sounds like a symphony/Played by a cemetery in the center of Queens." Her consequent declaration that "life must not be wasted" reveals the truth in Ecclesiastes 7:2: "Better to go to the house of mourning than to the house of feasting." As to how life can be harnessed, she comes up short, commending only that we "always be chasing the sun."
Some of that confusion seems to catch up with her in "Hercules," in which she describes "a war inside my heart gone silent/Both sides dissatisfied and somewhat violent." The struggle leads her to seek help outside of herself—"I have sent for a warrior from on my knees/to make me a Hercules"—though she still seems compelled by self-reliance. She concludes that "I only need to turn around to face the light." Listeners can hope that at some point she takes her own advice.
*This Article First Published by World News Service