Sara Evans' Slow Me Down has a Little Speed
Lindsay Williams

Crosswalk.com Contributing Writer

2014

18 Mar

COMMENTS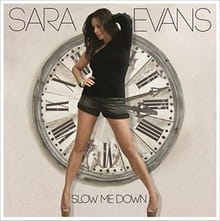 Album: Sara Evans
Artist: Slow Me Down
Label: Sony Nashville/RCA
It's been three years since multi-platinum recording artist Sara Evans released new music. On Slow Me Down, Evans ventures into the country pop territory that so heavily occupies the landscape of country music today. Still, she maintains pure country instrumentation with steel guitars, banjos and a little mandolin thrown in for good measure. However, even the inventive title track, which also happens to be the album's lead radio single, reveals a sophisticated, pop-imbued vibe missing from past full-length projects.
One should look no further than the credits of Slow Me Down to find that the sleek pop progression was intentional, evidenced by some impressive collaborations with The Fray's Isaac Slade and Gavin DeGraw.
Evans adds a twang to DeGraw's smash hit, "Not Over You," providing an interesting twist when sung from a female perspective, with DeGraw adding background vocals. Meanwhile, her duet with Slade reveals one of the album's shining moments with "Can't Stop Loving You," a cut rich in metaphors exploring laws of attraction. Although these two pop veterans might seem like the unlikeliest of collaborators, their contributions stand out with surprising uniqueness and prove Evans is just as comfortable performing a pop song as she is sporting her own genre.
Never far from her country origins, Evans also invites Vince Gill to join her on "Better Off," showcasing the versatility in her vocals that flow just as freely beside those of a pop artist as those of one of country music's most revered icons.
One of the brightest points on the album comes in the form of the musically quirky "Sweet Spot," a funky little ditty about love. Stand-out "Put My Heart Down" packs a punch lyrically. Meanwhile, "Revival" hints at Evans' spiritual roots. The closing anthem speaks more to standing up for what you believe in rather than exposing an overtly Christian message.
Evans co-wrote three of the 11 tracks, while the rest of the cuts were written by some of country music's most respected songwriters, including Dave Berg (Keith Urban, Blake Shelton), Shane McAnally (Kasey Musgraves, Kelly Clarkson), Karyn Rochelle (Trisha Yearwood, LeAnn Rimes), Sarah Buxton (The Band Perry) and Shane Stevens (Lady Antebellum, Kellie Pickler).
On the whole, Slow Me Down makes for a fairly clean listen, though whiskey, alcohol, cigarettes and guns are all mentioned in the lyrics of various tracks, mostly through metaphor. In those instances, these vices paint a vivid, visceral picture of the point Evans is trying to communicate. As in the original, on the DeGraw cover, Evans also uses a few minor swear words.
Slow Me Down doesn't necessarily break any new ground, but Evans' song selection is strong, her vocals are authentic and she proves unexpected collaborations can make for a surprisingly fresh end result.
*Published 3/18/2014