Sara Groves' Musings Prove to Be the Winner on Third Album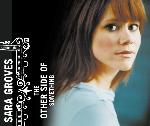 Artist:   Sara Groves
Label:   INO
Sara Groves' third album finds the insightful singer/songwriter in a place where she's examining, analyzing and striving to make sense of her personal and spiritual landscape. While her last album was more focused on love and relationships, both in earthly and heavenly realms, "The Other Side of Something" conveys an artist who has been wrestling.
Groves' latest embraces topics as diverse as the struggle to understand God's timing, the fight to put aside selfish human nature and the joys and pains of married life, among others. This time around, Groves also departs from her straightforward, didactic style of storytelling in favor of poignant metaphors on songs like "The Boxer" and "Roll to the Middle," inviting the listener to ponder the meaning behind the tunes.
While "The Other Side of Something" covers new lyrical ground, the sonic element also swings to something unique. Groves enlisted the help of Charlie Peacock (Nichole Nordeman, Switchfoot), along with her longtime friend/producer Nate Sabin, for a vibe that's less acoustic and a little more experimental than "All Right Here." The new record is more upbeat, with a decidedly pop flavor and a thicker overall texture.
Groves and the producers stack synths, drums, electric guitars and background vocals on nearly every tune. Most times the result is easy on the ears, though the tongue-in-cheek track, "All I Need," about a newlywed woman with a growing appetite for worldly possessions, comes across as slightly cheesy with the abundance of studio bells and whistles.
"Jeremiah," particularly, is one of the album's finer pieces. With a unique take on the power of God, it opens with a haunting vamp on strings,  sustained by a dark melody that moves the song along. "Compelled," co-penned by Groves and Peacock, draws from classic Sarah McLachlan style with its moody, atmospheric electric guitars and keyboards. Conversely, "Esther" paints a relevant picture of missional living and addresses the AIDS epidemic in Africa. "Undone" is a breezy, piano-driven track that evokes Jackson Browne or Bruce Cockburn, and "The Boxer" is a disco/jazz/funk fusion complete with '70s-inspired BGVs that's one of the album's coolest offerings.
Given her new direction, "The Other Side of Something" will serve as a surprise for some of Groves' fans. But the fact remains that history's best artists are those who are always evolving, even though they may ultimately end up right back with their original style. Groves, however, is following the path of those like Joni Mitchell, who chased her curiosity and produced great art as a result. Word to the wise: The first 40,000 copies of Groves' new album include a bonus CD featuring the "Living Room Sessions" (six of her previously unreleased demos) and a 30-plus-minute audio interview with personal thoughts by Groves on each song on "The Other Side of Something." Furthermore, the bonus CD is enhanced with lead sheets of multiple songs, photos and Web resources.

© 2004 CCM Magazine.  All rights reserved.  Used with permission.  Click here to subscribe.