"Scars Remain" Continues Disciple's Hard Rock Restoration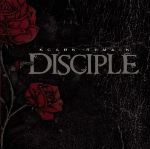 Artist:  Disciple
Title:  "Scars Remain"
Label:  SRE Recordings
When Thomas demanded a physical confirmation that the man standing before him was indeed the resurrected Jesus, he was able to reach out and touch his master's scars.
This was obviously a powerful and humbling experience for him, one that earned him the moniker of "doubting Thomas." However, Thomas isn't alone in needing proof of Christ's identity, but his access to Jesus was indeed unique. As followers of Christ, we are living proof of the work that was done by Jesus on our behalf. The scars of temptation, trials and failures that we've experienced over the years - as well as the healing and restoration that has taken place mark our lives.
After a rather successful outing with their self-titled return to the scene last year, Disciple follows up with "Scars Remain," another hard hitting album that's certain to keep their fans coming back for more. Straight out of the gates, the album hits hard with "Regime Change," a track that discusses the notion of putting to death your sinful nature. The album continues to address this difficult process on tracks such as "Love Hate (On and On),"which discusses "this evil that's … hiding in our skin." Also covered on the album is a recognition of Jesus as our understanding high priest ("Scars Remain"), the notion that Heaven and Hell are defined by God's presence or lack thereof ("My Hell"), the renewing comfort and strength of God ("Dive"), and the importance of loving others ("Fighting for Love").
For every step toward a poppier sound that Disciple took on their self-titled re-introduction, they've added back in a touch of hardcore to "Scars Remain." The title track, for example, has a gutsy, headlong pace that energizes listeners as they power through to the throaty vocals and yes, the occasional scream. This energy spills over into tracks like the anthem "Game On," a highlight despite feeling a bit dated and borrowing from the likes of Kid Rock or Saliva. However, the album isn't all hard edges as tracks such as "After the World" show a bit of the group's versatility and ability to share a touching ballad.
If "Disciple" was designed to get your attention, "Scars Remain" certainly serves the purpose of holding that attention. Disciple may not be a new group, but with the latest two entries in their catalog, they've experienced a new birth in a sense, restoring their name as a viable hard rock outfit and cementing their place among the better groups in the genre. "Scars Remain" proves to be a strong endeavor and a ride that's a whole lot of fun to be on.


© 2006 CMCentral.com.  All rights reserved.  Used with permission. 

Visit CMCentral.com now and join the single largest online community of Christian music fans on the internet.  CMCentral features  daily music news, exclusive interviews, album reviews, weekly devotions and feature articles written by some of your favorite Christian artists, and much more.  CMCentral is also the home of the most popular Forum for Christian music fans that you'll find anywhere on the Internet.  Come see what all the buzz is about!