SCC, Ileana Garces and David Phelps - Nov 27 News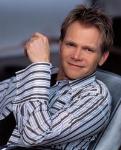 This Man Cannot Be Stopped – Even if we could stop Steven Curtis Chapman from writing great songs, would we really want to?  The future of Christian music could possibly be in jeopardy.  Too strong of a statement?  Well, when you consider that fact that SCC won big time at the recent 2002 Professional Songwriter Awards by American Songwriter Magazine, you might reconsider.  In the "Overall" category (includes pop, country, and R&B music), the fair-haired lad was named No. 2 songwriter of the year (right behind I. Lorenzo who co-wrote Ashanti's hit "Foolish") and No. 3 producer of the year (following I. Gotti and The Neptunes).  And then…in the "Christian" category, Chapman received the award for No. 1 song ("Magnificent Obsession") and was named No. 1 Producer (sharing the title with Brown Bannister) and No.1 Publisher (Sparrow Song/Peach Hill Songs).  And he's already got his next batch of soul-stirring, chart-topping, heartwarming hits ready to go with All About Love on January 28, 2003.  Ten bucks if you can guess what the primary theme is on that disc….

Goodness Gracious, Garces – Yup.  Ileana Garces has done it again.  And there's no "oops" about it.  The One Voice Records Latin pop recording artist has been nominated for three Viva Awards:  "Breakthrough Artist of the Year", "Best Female International Vocalist", and "Best National Artist".  Garces snagged other nominations this year for a Latin GRAMMY and a Dove Award.  This Sunday, December 1, 2002, the songstress will perform music from her Spanish-language album, El Amor Tiene un Valor, at the Viva Awards in Guatemala City, Guatemala.  See ya there!

Everybody Needs a Phelps-ing Hand – Thanks to the joint efforts of Gaither Vocal Band member and sometimes solo artist David Phelps and Jerry Phillips, Complex Human Resources Manager for Tyson Foods, a hefty 1,500 pounds of chicken have been donated to the Campus for Human Development in Nashville, Tenn.  Part of a three-year partnership with Share Our Strength, a leading anti-hunger organization, the donation came at just the right time as many food bands in America have experienced significant decreases in donations.  And get this:  when David and Jerry found out that the Campus for Human Development didn't have a freezer, the two pitched in and purchased a commercial freezer.  Now Tyson can send more chicken!  Hey, thanks for giving from your hearts, guys, and for supporting a great cause!