Scott Krippayne Attempts Stylistic Departure on Sixth Album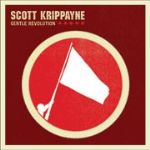 Artist:  Scott Krippayne
Title:  Gentle Revolution
Label:  Spring Hill
Using lesser-known producer Phil Johnson works to Scott Krippayne's advantage as he experiments with different musical styles and effects. "Lyin'" is a potpourri of sounds, beginning innocently enough with a simple piano melody and then joined by urban synth pads and hand claps. The mix between traditional and electronic instruments creates a fun dichotomy of sounds throughout the song. The vibe is remarkably similar to Steven Curtis Chapman's "Only Getting Started" off his latest disc, "All Things New."
The other stylistic standout on "Gentle Revolution" is "Something Different," and, as the title implies, it's just that. Krippayne uses vocal effects, double tracks the leads and draws on more innovative instrumentation than on any other song. His singing is soulful yet tinged with electricity. However, in his attempts to sing the lyrics as they whiz by in the bridge, he drops words or over enunciates every syllable to make the rhyme, which detracts from the overall flow, despite the infectious backbeat.
On the flip side, there are also stripped-down acoustic songs like the breathy "Last Will and Testament" (co-written with Brown Bannister) and "Renee." The latter features Krippayne's clear voice and a piano as he sings a sweet ballad about a chance encounter with actress Reneé Zellweger at a Starbucks in Los Angeles.
All things considered, there's a little bit of everything on this disc that'll keep old fans onboard and potentially attract new fans alike. From what he's served up here, Krippayne seems on the right track as he mixes his formula up and ventures into new musical territory.

© 2005 CCM Magazine.  All rights reserved.  Used with permission.  Click here to subscribe.