Seabird Gives Wings to Pleasant But Generic Brit-Rock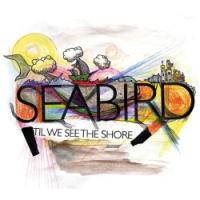 Artist: Seabird
Title: 'Til We See the Shore
Label: Credential Recordings
Cincinnati-based newcomers Seabird are the latest signings to EMI's alternative imprint Credential, blending together influences of swelling Brit-rock with upbeat piano pop.
As a result, the contents within 'Til We See the Shore fall somewhere between Coldplay, The Fray, NEEDTOBREATHE and even bits of Ben Folds Five, which is certainly a lauded list to choose from, but one the band leans too closely toward at times.
"Sometimes" jumps out from the get-go as something that could've come straight from The Fray's debut disc. The atmospheric "Apparitions" seems cut from a similar cloth as Chris Martin & Co., while the title cut is an uneventful momentum-building ballad in general.
Though the group's instrumental originality is lacking, members do paint a more personal brush stroke in the songwriting department ranging from topics of struggle to loss to a wide spectrum of relationships. The guys steer clear of cheesy Christian clichés in favor of reaching out to the mainstream-minded (especially on "Not Alone" and "Patience"), while also pledging life-long love to a childhood sweetheart throughout the tender "Falling for You."
Hopefully that topical creativity can permeate the band's upcoming stylistic pursuits, which need to be fleshed out with additional ingenuity instead of merely sounding like a composite sketch of so many other ethereal acts.





© 2008 CCMmagazine.com. All rights reserved. Used with permission.

**This review first published on July 28, 2008.