Second Time Out, J.R. Does Life by Stereo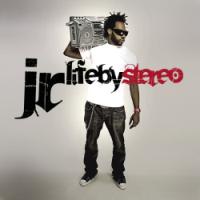 Artist: J.R.
Title: Life by Stereo
Label: Cross Movement Records
J.R., the voice behind many of Cross Movement Records' most outstanding hooks, comes out from behind the production table to lay out 17 diverse tracks of vertically-oriented soul for his sophomore album. Life by Stereo, a deliberate refutation of heavy metal's Death by Stereo, is not your typical CMR rapid-fire spitting and scratching project, but rather a blend of contemporary R&B, hip-hop, and urban pop. A strong biblical passion flows through the entire album, moving into softer worship as the 17 tracks unwind, a progression that feels very organic.

The beat-driven "Intro" lets you know immediately where J.R. is coming from, warmly inviting listeners into the Gospel message. The buzzy "Rockstar" challenges the sick values system of the Hollywood-driven culture, while tight BGVs add the sizzle. "Not a Slave" features hypnotic, energetic hooks, while contrasting the life of freedom to the bondage of a life ruled by sin. (Watch the video here.) "Tonight" is a bass-heavy dance party celebration of life in Jesus, while standout track "Ridaz Remix," with its reggae lilt, is straight-up hip-hop. I loved the bubbling R&B joy of "OK," and the Latin underpinnings of the melodious "U Chose." Things take a turn for the dramatic when Lecrae hops in for "When the Thrill Is Gone," and then the album's second half heads into a worshipful groove.

J.R. is deeply expressive on the soulful pop track "We Need You," shades of John Legend's vocal prowess. Gentle R&B track "No Fear" is an encouraging reminder that God is near, always loving us. I enjoyed the honest portrayal of the struggle to remain faithful on "Trust," as well as its percolating pop rhythms. "Say So" serves up some of the same irresistible samples under sweet R&B Harmonies. J.R. heads unapologetically into worship territory, referencing Psalm 119 on the melodic, prayerful "Your Word."
But it's the jazz-infused "Get Away" where he really lets loose the full powers of his vocal charms, smooth as buttah over a soft trumpet. The slow burn of the bluesy "Words of Life" is another standout track, and the worship tops off beautifully with closer "Never Lose." CMR waited a while to bring a crooner into the fold, but when they did they got the best.
© 2008 CMCentral.com. All rights reserved. Used with permission.



Visit CMCentral.com now and join the single largest online community of Christian music fans on the internet. CMCentral features daily music news, exclusive interviews, album reviews, weekly devotions and feature articles written by some of your favorite Christian artists, and much more. CMCentral is also the home of the most popular Forum for Christian music fans that you'll find anywhere on the Internet. Come see what all the buzz is about!