Selah Celebrates "Greatest Hymns" in Newest Collection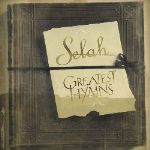 Artist: Selah
Title: "Greatest Hymns"
Label: Curb
It is no surprise Selah's latest release, "Greatest Hymns," is a collection. Siblings Nicol Sponberg and Todd Smith, along with longtime musical comrade Alan Hall, have made a decent living handpicking some of the finest songs of our faith and neatly packaging them with the most recognizable vocals in the industry today. Highlighting definitive moments from a handful of successful studio releases, Selah gives us a respectable bridge into the next chapter.
The Celtic-tinged "Be Thou My Vision" provides a perfect introduction to the collection, mimicking the paramount success of last year's "You Raise Me Up," though exerting nothing new for the perennial listener. Wandering through hymns far and wide, Selah's supreme moments follow the astounding achievements of departed vocalist Nicol Sponberg's hearty alto, carefully tracing the historic melody of "When I Survey"'s summation: "Love so amazing, so divine/ Demands my soul, my life – my all."
Equally poignant is the liturgical "Sacred Head Now Wounded," confessing "What language shall I borrow to thank thee, dearest friend … Lord let me never, never outlive my love to thee."
One of the most surprising breakout artists in recent Christian music history, Selah rounds out the disc with the radio-ready "Be Thou Near to Me," giving direction for the future while holding on to the elements that have defined the group thus far. No one can tell how long the trend of recording hymns will last; but considering families of faith have been incorporating them into corporate and personal worship for centuries, it's a testament to their continuing relevance. Thank you, Selah, for carrying on this deep tradition and making it sound so good.

© 2005 CCM Magazine. All rights reserved. Used with permission. Click here to subscribe.





Check out great Selah music videos at Godtube.com.