"Share the Well" -- Your Passport to Intriguing Pop Sounds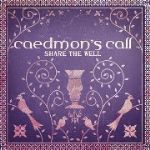 Artist:   Caedmon's Call
Label:   Essential Records
When it comes to world travel, people might visit Ecuador to see the Galapagos Islands, Brazil for the rainforest and India for the Taj Mahal. Caedmon's Call, on the other hand, visited these countries with different sights in mind and came back with a new vision unmarked on any tourist map. Peering deep into the heart of the people and cultures, Caedmon's put its experience into words and music with "Share the Well," an album that transports listeners to other lands without the creepy airport security pat down.
Working with Peace Gospel Ministries and the Dalit Freedom Network in India and Compassion International in Ecuador and Brazil, Caedmon's Call sought out places where oppression, poverty and injustice affect entire communities. For example, the band — featuring vocalist/guitarist Cliff Young, vocalist Danielle Young, drummer Todd Bragg, percussionist Garett Buell, guitarist Andrew Osenga, organist/keyboardist Josh Moore and bassist Jeff Miller — personally witnessed the Dalits' (those in the lowest caste, the "untouchables") plight in India's Hindu caste system. While in South America, they visited people's homes in the most destitute slums. Though Caedmon's knew the album would center on these trips, the experience, ultimately, provided more than inspiration. Traveling with portable studio gear, the group wrote and recorded with locals and used several native instruments. The result is a collection of authentic songs that show the interconnected dynamics of a hard life and a glorious soul.
The album's title track sets the tone with heavily layered percussion, upbeat guitars and poppy vocals that breathe powerfully symbolic lyrics. Indeed, many of the songs retain an uptempo vibe, such as the chorus-heavy "Bombay Rain" and the hand-clapping "Volcano," while more intimate moments include the Danielle-led songs "Did Not Catch Her Name," "Mother India" and "Innocent's Corner," all of which paint stunning portraits of third-world living. Still, Caedmon's best pop-folk and world music blend is "Dalit Hymn," a heavily ethnic song with strong socio-political implications ("Caste is a lie, Caste is a lie, Prime Minister, caste is a lie").
Following the worshipful "In the Company of Angels: A Call to Worship" and the return to its folk roots with "Back Home," "Share the Well" actually marks the band's 10-year anniversary, which makes it fitting that this album would be its most artistically ambitious. Few groups could incorporate such diverse world influences without losing mainstream sensibilities while, likewise, making the deep lyrics more accessible with a surprising pop slant. "Share the Well" clearly showcases an intimate marriage of music and culture that no amount of frequent-flyer miles could ever reproduce.

© 2004 CCM Magazine.  All rights reserved.  Used with permission.  Click here to subscribe.