She Colors My Day Reveals Amy Grant's Direction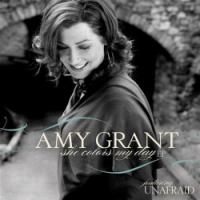 Artist: Amy Grant
Title: She Colors My Day EP
Label: Sparrow Records
Two stellar new tunes and two golden oldies …
Despite keeping a high public profile, it's been six long years since Amy Grant released a non-holiday pop song.
While not the full-length album longtime fans have been salivating for since 2003's Simple Things, this Mother's Day-themed EP does provide a glimpse into her current direction through two new tunes, along with a nod to the past via two golden oldies.
"She Colors My Day" begins the record with an earthy pop/rocker reminiscent of Grant's wealth of '90s crossover hits, but with an updated flavoring anchored in warm harmonies. The message pays tribute to the singer/songwriter's mother, while also raising awareness for the Entertainment Industry Foundation's Women's Cancer Research Fund. From there, the stripped-down acoustic ballad "Unafraid" takes a more reflective tone, addressing the aging process with grace and dignity as it recalls the pensive Behind the Eyes era.
Though most listeners probably already own "Baby, Baby" and "Oh, How the Years Go By," these two tracks fit hand in glove with the theme of memories and motherhood. The new tunes alone are worth the price of admission and suggest Grant's next full-length CD could be amongst her most immediate and emotional to date.
© 2009 CMCentral.com. All rights reserved. Used with permission.




Visit CMCentral.com now and join the single largest online community of Christian music fans on the internet. CMCentral features daily music news, exclusive interviews, album reviews, weekly devotions and feature articles written by some of your favorite Christian artists, and much more. CMCentral is also the home of the most popular Forum for Christian music fans that you'll find anywhere on the Internet. Come see what all the buzz is about!

**This review first published on August 18, 2009.