"She Must and Shall Go Free" – Music Review
Anthony DeBarros

Music Reviewer

2003

19 Mar

COMMENTS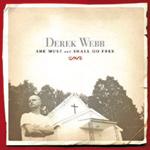 Artist: Derek Webb
Label: INO Records
For his first solo venture, singer-guitarist Derek Webb delivers a roots-rock cousin of Caedmon's Call. Mandolin, acoustic guitar and the occasional wheezing harmonica give "She Must and Shall Go Free" a dose of Americana, but the vibe's not far from the college rock Caedmon's has mined for the last decade. The parallels meet on "Awake My Soul," written by Webb's wife, Sandra McCracken, which also appears on the new Caedmon's Call album, "Back Home". However, these ears favor Webb's punchier version.
Sonics aside, the album has a lot to say. On "Nobody Loves Me," Webb positions himself as "a dangerous crusader" who's "turning over tables" to confront idolatry in the church. Indeed, on "Wedding Dress," when he sings, "I'm a whore, I do confess," it's more than a confession; it's a challenge to rethink just who and what believers hold sacred. Musically satisfying but tough to chew, Webb probably meant it to be that way.

Used by permission. CCM Magazine © 2003 Click here to subscribe.
You can see Derek Webb music videos at Godtube.com!