"Shout to the Lord"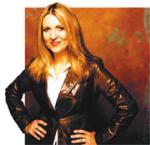 One of the most popular worship songs in modern history came about by "just worshiping."
There's an old saying that claims good things come to those who … worship? Well, at least that's what happened to Darlene Zschech, who wrote "Shout to the Lord," one of the most popular contemporary worship songs of all time. Zschech still seems a little amused when asked about the "story" behind the song. "There is no big story. I really didn't sit down one day and decide to write an incredible song that [would] touch the nations," she says.
"It was one of those dark days in my life," she recalls of the 1993 writing of the now-classic anthem. As she sat at her "very out of tune" piano and read through the Book of Psalms, she began worshiping. "I wasn't even consciously thinking about the song; I was just worshiping," she says. "I sang it, pouring my heart out to God. In about 20 minutes, the song had been penned."
After she tentatively played her new song for some staff members at the Hills Church in Australia, Pastor Brian Houston predicted it would be sung around the world. And the rest, as they say, is history.
In just 10 years, "Shout to the Lord" has been sung in churches from Nigeria to New Hampshire. It has been recorded on over 50 different albums and translated into languages as diverse as Hungarian, Mandarin, Danish, Italian, Japanese and Swedish. Not bad for a song that took less than half an hour to write!

Used by permission.  CCM Magazine © 2003  Click here to subscribe.