Sidewalk Prophets Bring the Pop on These Simple Truths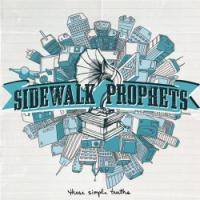 Artist: Sidewalk Prophets
Title: These Simple Truths
Label: Fervent Records
Solid pop debut in vein of MercyMe …
From their Anderson University beginnings in central Indiana to living their label dream in Nashville, Dave Frey and Ben McDonald are proof that hard work and prayer go hand in hand.
The band's talent has been evident from the get-go, and their strong work ethic, demonstrated by playing every possible camp and church outing, built an audience the right way: slow and steady.
Fast-forward a few years, and Fervent Records now provides a platform for the proverbial next level. But the group's incredible pop sensibilities remain, serving as Sidewalk Prophets' hallmark throughout These Simple Truths, the band's label debut. Think MercyMe mixed with Brandon Heath, and you'll get a good idea of not only the sounds involved, but sales possibilities as well.
In a letter to his dying grandfather, vocalist Frey laid out the album's first single, "These Simple Truths." The track should immediately become a radio hit with its heartfelt sentiment and lyrics like, "God's got his hand on you, so don't live life in fear/Forgive and forget but don't forget why you're here/Take your time and pray/These are the words I would say."
Familiar production and pop techniques function as both a strength and weakness on These Simple Truths. That well-known sound that enables a listener to scan radio stations and tell the Christian station within three notes applies to each and every song found here (especially "You Love Me Anyway" and "Show Me How to Love"). But that's the case for many artists who craft memorable songs and enjoy successful careers. In the end, Sidewalk Prophets will quickly be mentioned in the same breath as other pop luminaries.
Watch Sidewalk Prophets music videos at Godtube.com.

© 2009 CMCentral.com. All rights reserved. Used with permission.




Visit CMCentral.com now and join the single largest online community of Christian music fans on the internet. CMCentral features daily music news, exclusive interviews, album reviews, weekly devotions and feature articles written by some of your favorite Christian artists, and much more. CMCentral is also the home of the most popular Forum for Christian music fans that you'll find anywhere on the Internet. Come see what all the buzz is about!

**This review first published on October 27, 2009.