"Simple Things" - Music Review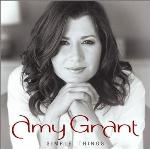 Artist:    Amy Grant
Label:   A&M/Word Records

In the course of the last 25 years, Amy Grant has become her own unique genre of music and her fans their own demographic. And in the process, she managed to sell just shy of 25 million albums (more than Michael W. Smith and Steven Curtis Chapman combined).

So it goes without saying that a new Amy Grant album always generates a lot of curiosity from Christian music fans. Grant has often found her personal life overshadowing her music in the six years since she released "Behind the Eyes" (her last non-seasonal/non-hymns record), but that is likely to change with "Simple Things."

With a new fire, playfulness and vulnerability, Grant has never sounded better as she tackles some of the strongest melodies and most intimate songs of her career. A consummate singer/songwriter, she wrote or co-wrote eight of the project's 10 guitar-pop tracks. Keith Thomas produced the same number, with Brown Bannister and Wayne Kirkpatrick each producing a song as well.

The disc kicks off with "Happy," a love song that wouldn't be out of place on a Faith Hill record were it not for confessional lines like:  "I know I've made some big mistakes/I've learned the hardest lessons that way."

In the incessantly singable title track (and first single), Grant sings "I dream of simple things I can believe in/like ... true love and the miracle of forgiving." She admits in "Out in the Open" that "It's a tangled web I've woven" before later unabashedly affirming "I accept His love/I have a newfound hope/ ... I can be pure again" ("Innocence Lost").

Simply put, "Simple Things" is classic Amy Grant singing about classic Amy Grant themes: love, loss, forgiveness and faith. Let's hope we don't have to wait six more years to get another record this good out of her.

Used by permission.  CCM Magazine © 2003  Click here to subscribe.