"Simply Nothing" a Simply Divine Debut for Shawn McDonald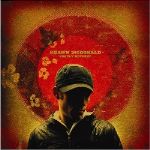 Artist:    Shawn McDonald
Label:   Sparrow
Any time a listener becomes captivated by a disc halfway into the first spin, it gives rise to hopes that the remaining experience will be just as special. When it comes to new artist Shawn McDonald's stunning pop/folk debut, "Simply Nothing," the only disappointment occurs when the last song ends.
Rarely does any artist's first effort come out of the bin with as much inventiveness, honesty and raw emotion as McDonald's (although Jeremy Camp fans may rightfully beg to differ). What's more, it's recorded by a former drug user and pusher who only learned to compose songs and play guitar some six years ago. Melding elements of pop, folk and soul, the singer/songwriter deftly weaves 12 acoustic-driven tracks into a cohesive and consistent set.
Although forthright minimalism prevails overall, leadoff track "Take My Hand" kicks up the mix with its unusual syncopation, imaginative orchestral touches and layered harmonies. McDonald's eclectic vocal style recalls the earnestness of troubadour Derek Webb and the confessional approach of alt-folk songstress Tracy Chapman. Whether rendering an imaginative portrait of God's grace with "Beautiful" (inspired by Brennan Manning's "The Ragamuffin Gospel") or pleading for divine intervention on "Gravity," McDonald's impassioned voice simply beckons to be heard. 
On the disc's title track, he evokes singer Ed Kowalczyk from rock outfit Live (With eyes closed, one can envision hearing the initial stanzas of melancholy tune "Lightning Crashes."). Deeper into the repertoire, pensive tune "Take This Life" is sumptuously trimmed with piano and nylon guitar stylings, culminating with this provocative assertion: "I trudge and I step through the height and the death/ Of a long narrow as I'm growing old/ And soon I will be home."
Perhaps the most exquisite song of the lot, "Have You Ever," thematically ventures from forlorn circumstance ("Have you ever wanted someone to care?") to peaceful contentment ("What you're looking for is my sweet Lord"), all the while revealing an artist who finds strength in vulnerability and — most importantly — an undeniable dependency on the Savior.
What McDonald achieves on his debut is nothing short of remarkable. Simply put: Here's an album that's downright hard to stop listening to when the music runs out.

© 2004 CCM Magazine.  All rights reserved.  Used with permission.  Click here to subscribe.