Snow Shimmers with Signature Relient K Humor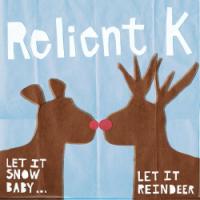 Artist: Relient K
Title: Let It Snow Baby ... Let It Reindeer
Label: Capitol Records
The magic that Matt Thiessen and his Relient K compadres have created through 14 various prior outings makes any wise music lover run toward a new project of any kind. The good news is that Let It Snow … Let It Reindeer overflows with all the signature RK humor, harmonies, and style that we have come to expect, and then some. Collectors will note that 10 tracks were previously released on their first holiday EP, Deck the Halls, Bruise Your Hand, but some slight tweaking has taken place and seven new songs added, making Let It Snow still a bargain for any listener.
Let It Snow covers some of the standard classics straight-up: a guitar-driven "Have Yourself a Merry Little Christmas," lovely with Thiessen's lilting vocals, a piercingly pure "Silent Night," and an exuberant "Handel's Messiah." Other classics are magically tweaked: a frenetic and joyous "Angels We Have Heard on High" and "12 Days of Christmas" energetically slammin' the partridge into that pear tree. Fans tracking the famous Relient K humor won't be disappointed either. Tongue-twisting '50s novelty track "I'm Gettin' Nuttin' for Christmas" brims over with the band's classic playfulness; move over, Chipmunks. And punk guitars and rhythms lay out Santa's hard luck story on "Santa Claus Is Thumbin' to Town."
The warm "In Like a Lion," previously on The Apathetic EP, highlights the band's vocals strengths, and solid keys and a 12-string examine the lonely side of the season on "I Hate Christmas Parties." "Boxing Day" is a quiet, acoustic call to love, while the key-driven standout track "I Celebrate the Day" focuses on what Christmas means to one heart. Sparkling and sincere, the track is powerfully personal and alone worth the price of admission. Typically K, Let It Snow goes out on a good time, soprano vocals high over a ukulele until breaking up in laughter on closer "Good King Wenceslas." The hidden bonus track, again sheer fun, is still a bit eerie, but we would expect nothing less from favorite sons Relient K. In the crowded field of holiday music, Let It Snow … Let It Reindeer is a definite can't miss.



© 2007 CMCentral.com. All rights reserved. Used with permission.



Visit CMCentral.com now and join the single largest online community of Christian music fans on the internet. CMCentral features daily music news, exclusive interviews, album reviews, weekly devotions and feature articles written by some of your favorite Christian artists, and much more. CMCentral is also the home of the most popular Forum for Christian music fans that you'll find anywhere on the Internet. Come see what all the buzz is about!



View some of the great Reliant K music videos at Godtube.com.