Sonicflood Takes Safe Route on "Glimpse"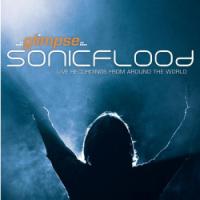 Artist: Sonicflood
Title: "Glimpse: Live Recordings From Around the World"
Label: INO
Few would debate the statement that Sonicflood circa 2006 is not Sonicflood circa 1999. That difference becomes more apparent when the band's new release, "Glimpse: Live Recordings From Around the World," is placed alongside the first brand-name live recording, "Sonicpraise," released in 2001.
Though "Sonicpraise" came at a time when the band's line-up was changing, it still caught the spirit of the band's self-titled debut in a fresh setting with live, free worship arrangements. It was a different, but familiar, look at something already well known.
A live worship recording is a golden opportunity for new arrangements, free worship and fresh response. It's the chance to expand on a song in a live setting, allowing it to become something new "in the moment." On "Glimpse," Sonicflood plays it safe and falls short. A lack of ingenuity plagues the band. It simply regurgitates nine hits on stage just as the audience would hear them on a record. Sonicflood doesn't take the chance to update hits "Open the Eyes of My Heart" or "I Want to Know You," keeping the same, safe arrangements as the originals. And the audience itself only seems to participate when the band pleads for a response.
The track list reads like a best-of project and includes "You Are," "Resonate," "Your Love Goes on Forever" and "Cry Holy." The project does include two new songs recorded in the studio, "Infinite Love" and "Save Me." Though a good song, "Save Me" isn't enough to save the record. A bonus DVD includes "making-of" footage and two music videos for "Everlasting" and "This Generation."
Sonicflood recorded performances at different shows around the globe for "Glimpse." Unfortunately, live performances from Thailand to Ireland sound no different from American ones, and even such a noble global vision isn't enough to sustain the record.


© 2007 CCM Magazine. All rights reserved. Used with permission. Click here to subscribe.